HOW TO THROW AN APEROL HALLOWEEN PARTY
Spooky season is upon us again, which means an excuse to throw an unforgettable Halloween party for you and your friends – complete with orange decor, Italian treats and plenty of Aperol Spritz.
Use our Aperol Halloween Party Checklist to start planning your celebrations and bring a taste of the Italian dolce vita to your party this year.
HALLOWEEN IN ITALY
Known as All Saints' Day, Halloween in Italy is a blend of religious tradition and American invention. Streets are filled with festive decorations, eerie attractions and bewitching music, as local shops hand out tasty Italian sweets to those in fancy dress.
The small Tuscan town of Borgo a Mozzano prides itself on having the largest Halloween celebrations in Italy, while the medieval city of Corinaldo is the self-appointed capital of Halloween for its Festival of the Witches.
So why not add a little Italian charm to your Halloween parties?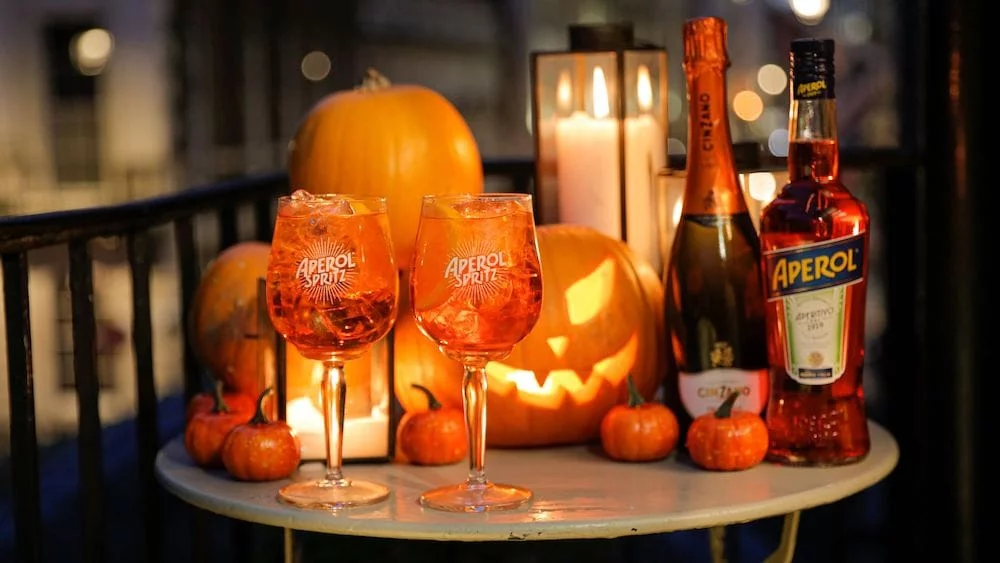 APEROL HALLOWEEN PARTY CHECKLIST
To throw the perfect Aperol-inspired All Hallows Eve party, you need to make sure you have everything co-ordinated, from orange-hued decorations to Halloween drinks:
Aperol-inspired decor
What would a Halloween party be without adorning your space in our favourite colour? From an orange checked tablecloth to the traditional pumpkin jack o' lantern, these vibrant decorations help keep your party on-theme.
Stock up on Aperol glasses for a spine-chilling Spritz, plus an assortment of orange napkins, candles and coasters to complete the look.
Italian horror films
Make your Halloween party a stand-out with a killer playlist of suspense-filled music and a scary film (or two) to finish the evening with a scream.
Pick a classic Italian giallo slasher film from the 1960s, such as The Girl Who Knew Too Much, or a gothic horror by Dario Argento – Suspiria and Inferno are two of the most popular.
The ultimate Halloween drink
Keep your party drinks on-theme by serving everyone's favourite orange cocktail, Aperol Spritz – it's the ultimate Halloween drink.
Simply fill each guest's glass with ice, followed by 3 parts prosecco, 2 parts Aperol, and 1 part soda for the perfect Aperol Spritz to kick off your Halloween party. Garnish with a slice of orange for the finishing touch.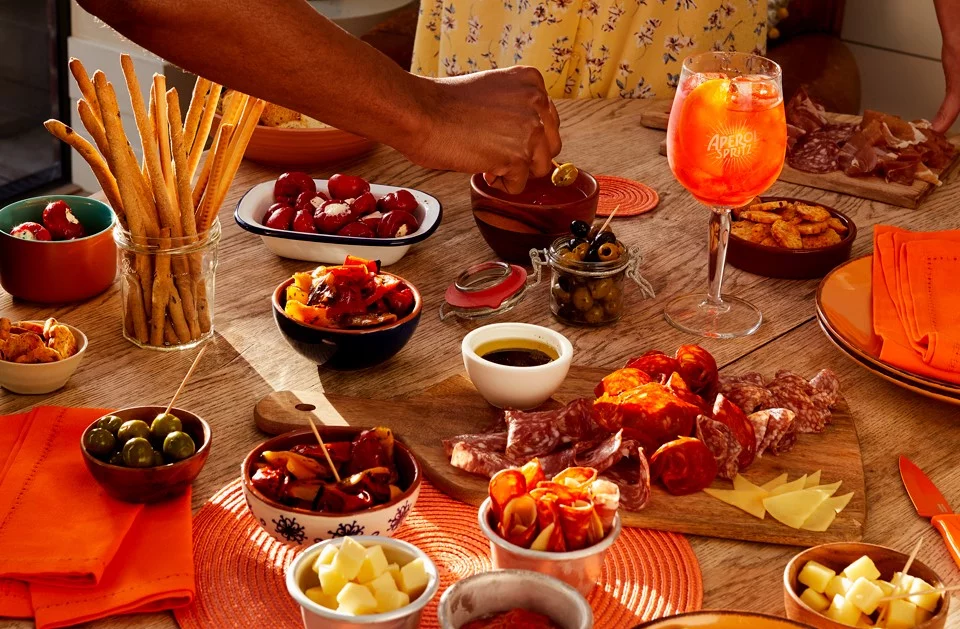 Traditional Italian treats
Pair your Aperol Spritz with some devilishly delicious treats, featuring a selection of Italy's popular Halloween dishes:
– Chickpea soup – a Day of the Dead tradition. Add some pumpkin for a festive twist.
– Carne salada – thinly-sliced beef carpaccio served with a side of cabbage.
– Bagna cauda – sauteed anchovies in garlic butter, to keep the vampires away!
– Chestnut risotto – make the most of seasonal produce with this heart-warming dish.
– Ossi dei morti, or Bones of the Dead – almond cookies served on All Saints Day.
Scary stories
Story-telling is a huge part of All Saints Day in Italy, as tales of wandering spirits and ancient ghosts are passed down through generations.
Bring a touch of this tradition to your dinner party conversation with a ghost story to get your guests in the Halloween spirit. Encourage people to share their favourites and choose a winner for the most original.
Italian horror films
Don't forget to share your Aperol Halloween party snaps on Instagram and tag @AperolSpritzUK.