Aperol Spritz, originální receptura
Zažehněte oranžovou jiskru!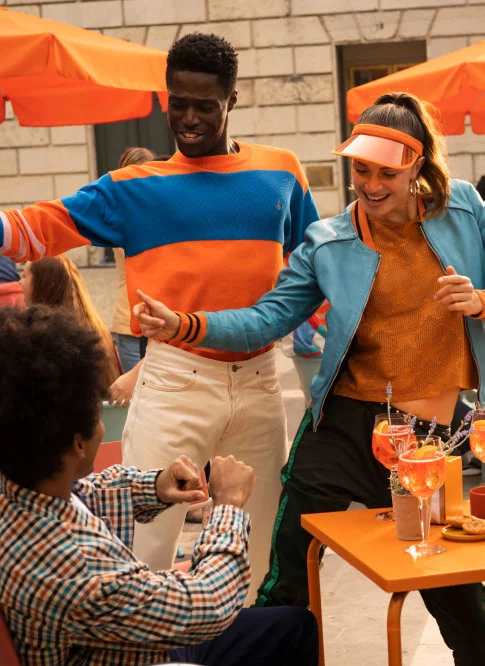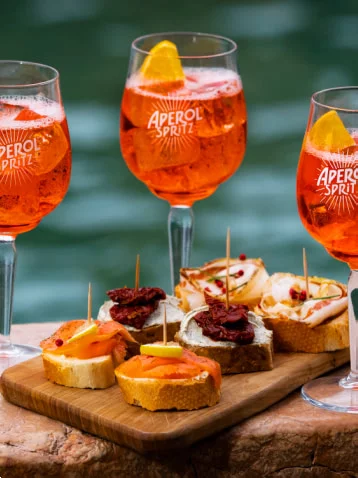 Co je Aperol Spritz, onen oranžový nápoj
Jeho nezaměnitelná oranžová barva a osvěžující hořkosladká chuť rozzáří každé setkání s přáteli. Koktejl Aperol Spritz vás příjemně naladí a přinese pozitivní vibrace, takže každé téma vaší konverzace dostane tu správnou jiskru.
Oficiální receptura Aperol Spritz schválená Mezinárodní barmanskou asociací (IBA)
Ingredience
3 díly Prosecco D.O.C. (9 cl)
2 díly Aperolu (6 cl)
1 střik perlivé vody (3 cl)
1 plátek pomeranče
Recept
Nasypte kostky ledu do sklenice kulatého tvaru na stopce.
Nalijte 3 díly Prosecca D.O.C. (9 cl).
Dále nalijte 2 díly Aperolu (6 cl) a 3 cl perlivé vody.
Nakrájejte pomeranč na plátky a použijte je jako ozdobu.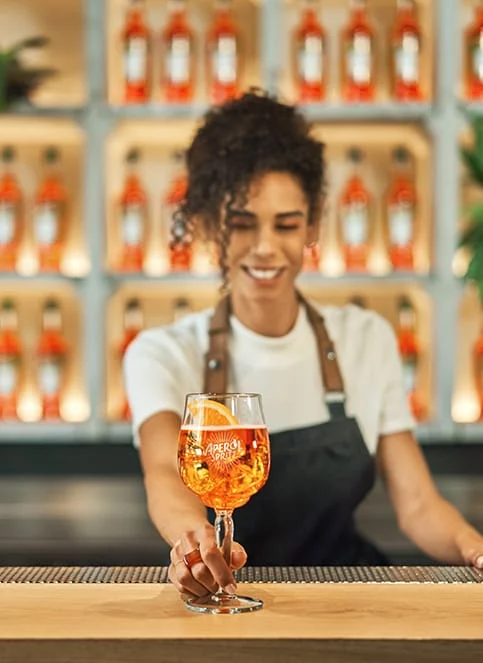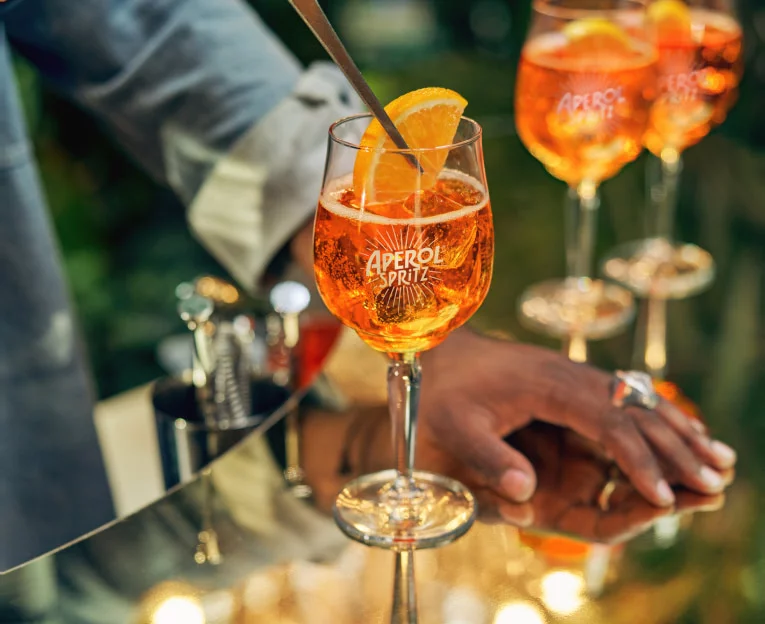 Tipy a triky
Příprava skvělého nápoje Aperol Spritz je stejně jednoduchá jako když počítáte: 3-2-1. Je to poměr 3 dílů Prosecca, 2 dílů Aperolu a 1 dílu perlivé vody. Pokud odměřujete, je to 90 ml Prosecca, 60 ml Aperolu a 30 ml perlivé vody. Pokud neodměřujete, jednoduše nalévejte a odhadujte podle barvy.
Aperol Spritz chutná nejlépe s ledem ve velké sklenici na víno ozdobené plátkem pomeranče a v dobré společnosti.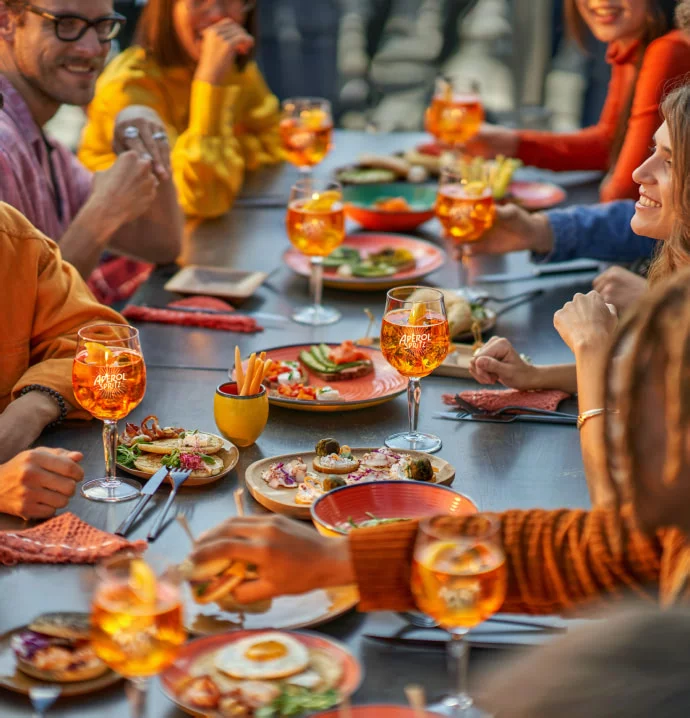 Jaké občerstvení se hodí k Aperol Spritz
Původní benátský rituál zahrnuje aperitiv Aperol Spritz podávaný s tradičními italskými jednohubkami, kterým se říká "cicchetti". Nicméně v průběhu let se nápoj Aperol Spritz stal univerzálním nápojem vhodným k různým typům pokrmů při různých příležitostech, od rychlého toastu před večeří po lehké obědy s uvolněnou atmosférou, které si rádi užíváme o víkendech.
Zjistěte, jak je kombinovat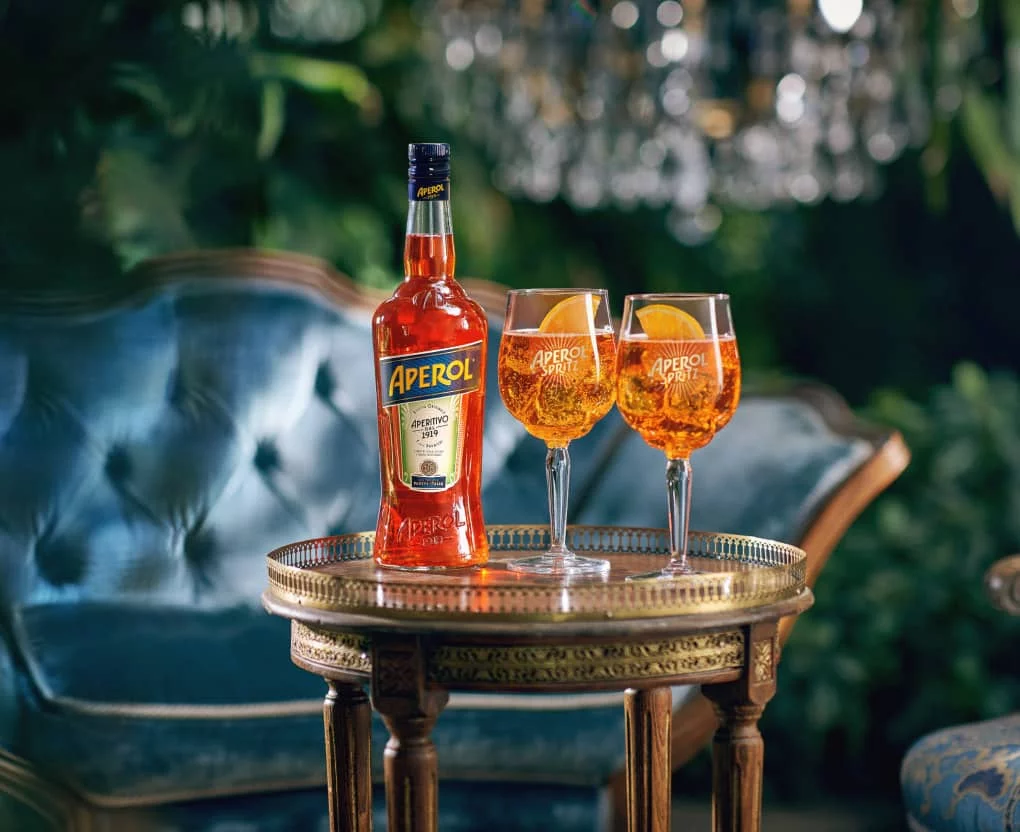 Další produkty Aperol
Aperol je skvělý nápoj vhodný na setkání s přáteli, ať jste kdekoli. Objevte hořkou chuť a lahodné tóny Aperolu, nebo další produkty z této řady a zjistěte, jak si je nejlépe vychutnat.
Zobrazit Aperol