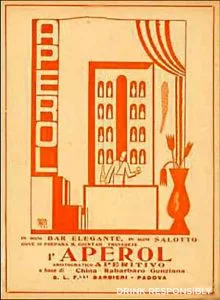 The Barbieri Brothers launched Aperol at the 1919 Padua International Fair, which was a prominent trade event that also included a 'Campionara' – an exhibition devoted to food, travel and lifestyle. With its unique orange colour, strong herbal notes and refined bitterness, Aperol was a hit at the fair.
It wasn't until the 1950s that the Aperol Spritz was born. Inspired by the 'Spritzer' (German for splash), the perfect ratio of three parts Italian prosecco, two parts Aperol and a splash of soda became a popular drink at Aperitivo occasions throughout Italy.
As the decades passed, Aperol Spritz' iconic hue became a common sight at bars and cafes. It was soon the drink of choice for glamorous socialites from Padua to the French Riviera and beyond. Aperol eventually became the best-selling spirit in Italy (Source: IWSR).
On 29 June 2012, thousands of Aperol fans descended on the iconic Piazza San Marco in Venice to attempt a Guinness World Record™ for the 'Largest Aperol Spritz Toast'. Over 2,600 people joined in the social spirit of Aperol Spritz, eager to clink their glasses to make history.
Now, almost 100 years later, Aperol is more popular than ever as friends and family enjoy Aperitivo Hour with an Aperol Spritz in hand, all around the world.
Learn how to make the perfect Aperol Spritz on our recipes page. It will bring an element of true Italian style to any occasion.