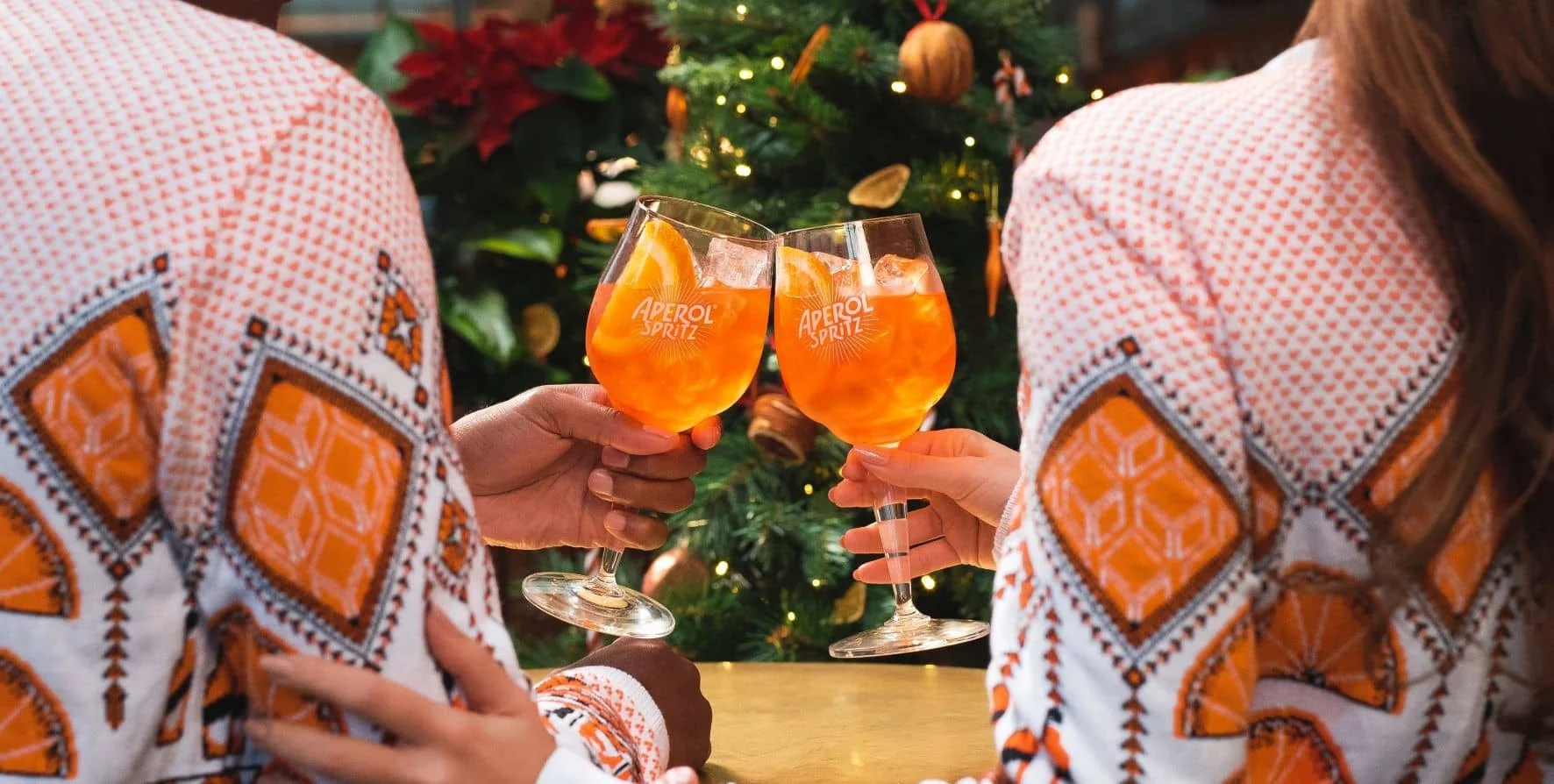 WE WISH YOU A MERRY SPRITZMAS
Buon Natale Aperol lovers! This festive season is all about getting together with friends near and far to celebrate long-overdue Friendsmas celebrations. To help you get into the festive spirit, we've brought back our limited-edition Merry Spritzmas jumpers with an all-new sustainable design for 2021.
You can dress up your jumper for a dinner party or wear it to a cosy catch-up on Christmas Eve. Each jumper purchase entitles you to a free pair of Aperol Spritz at The Alchemist and raises money for charity – the perfect way to start your countdown to Christmas.
Read on to find out more about the intricate design and how you can get your hands on one of our exclusive jumpers!
THE DESIGN
At Aperol, we love to embrace our Italian roots – and our Christmas knitwear design is no exception. Combining vintage 'grandad chic' with a few subtle nods to our Venetian heritage, the Aperol Christmas jumper is a must-have for your winter wardrobe.
Let's take a closer look…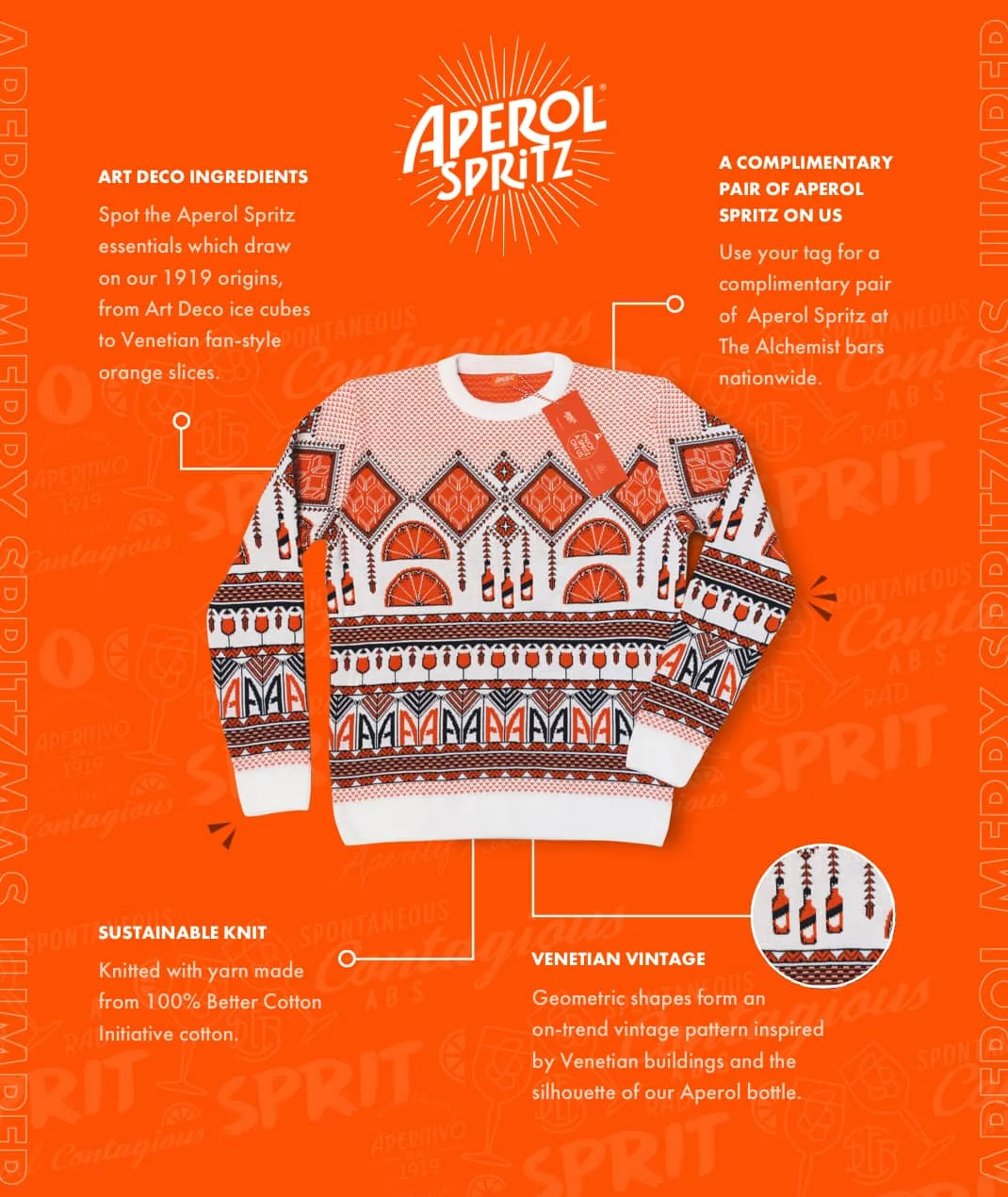 1. Venetian Vintage
Our Merry Spritzmas jumper embodies the spirit of Venice with a vintage twist. Geometric shapes inspired by the facades of traditional Venetian buildings create a contrast of colour and pattern in a classic Fair Isle knit.
2. Art Deco Ingredients
Aperol made its first appearance back in 1919, so it's only right that our jumper draws on our Art Deco origins. Spot the Aperol Spritz essentials hidden within the design, including signature Aperol bottles, Venetian fan-like orange slices, decorative ice cubes and large glass silhouettes.
3. Sustainable Knit
Each jumper is knitted with 100% sustainable cotton from the Better Cotton Initiative – a group that promotes better global standards in cotton farming and practice.
COMPLIMENTARY PAIR OF APEROL SPRITZ
Notice a swing tag attached to your jumper? Do not throw it away! This swing tag entitles you to a complimentary pair of Aperol Spritz at The Alchemist bars nationwide. Visit with a friend to start your festive season the right way – with a catch-up over a perfectly-poured Aperol Spritz.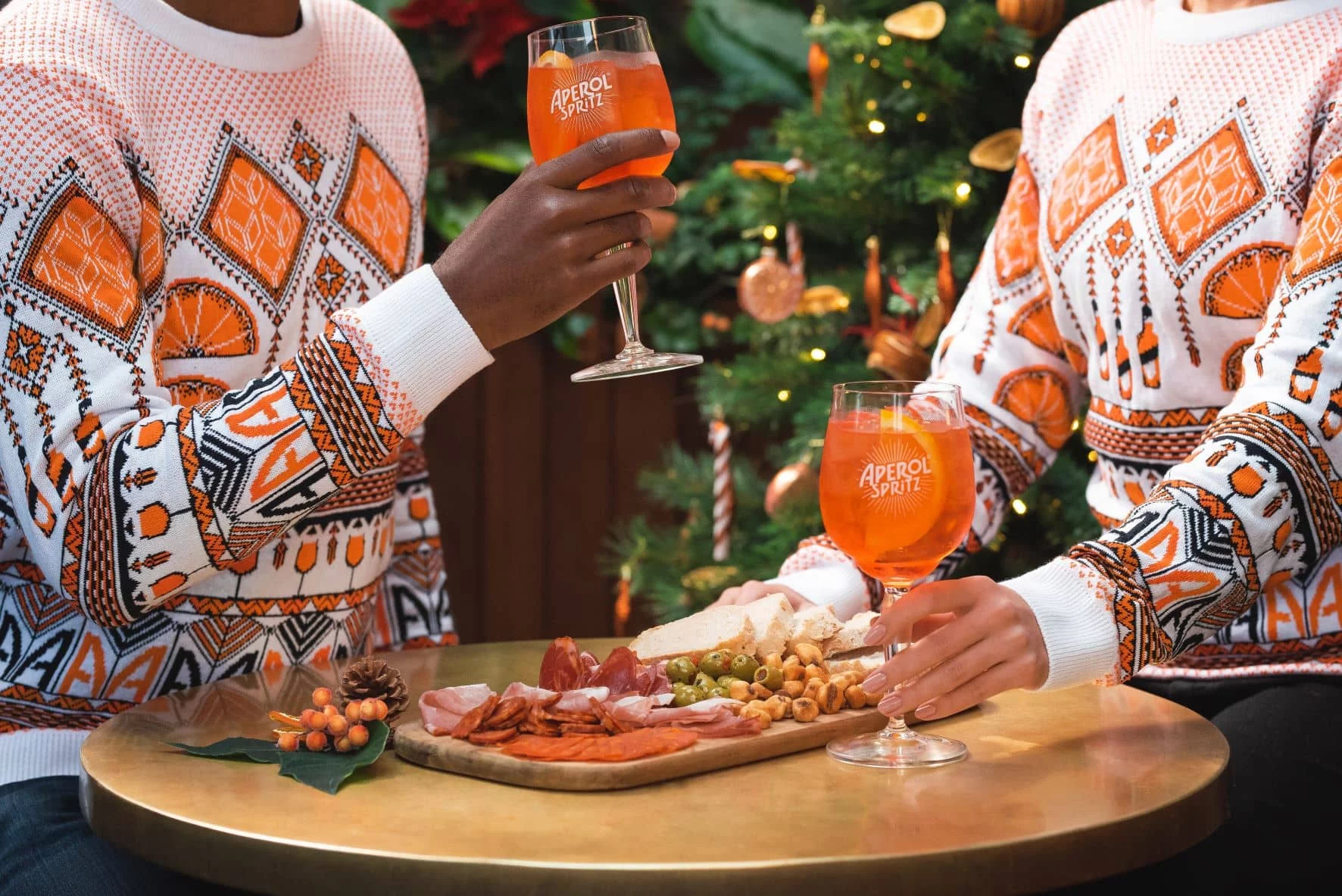 SHOW YOUR SUPPORT FOR THE DRINKS TRUST
Christmas isn't just about coming together with friends, it's also a time to give back. So, along with supporting the Better Cotton Initiative, we're making sure that all proceeds from our Merry Spritzmas jumpers are donated to The Drinks Trust – a UK charity that supports people working in the drinks hospitality industry.
A perfect gift on any Aperol enthusiast's wish list, the Aperol Merry Spritzmas Jumper retails at £35 and is now available to purchase from the Aperol UK Etsy shop. Act quick so you don't miss out!
What are you waiting for? Buy yours now.