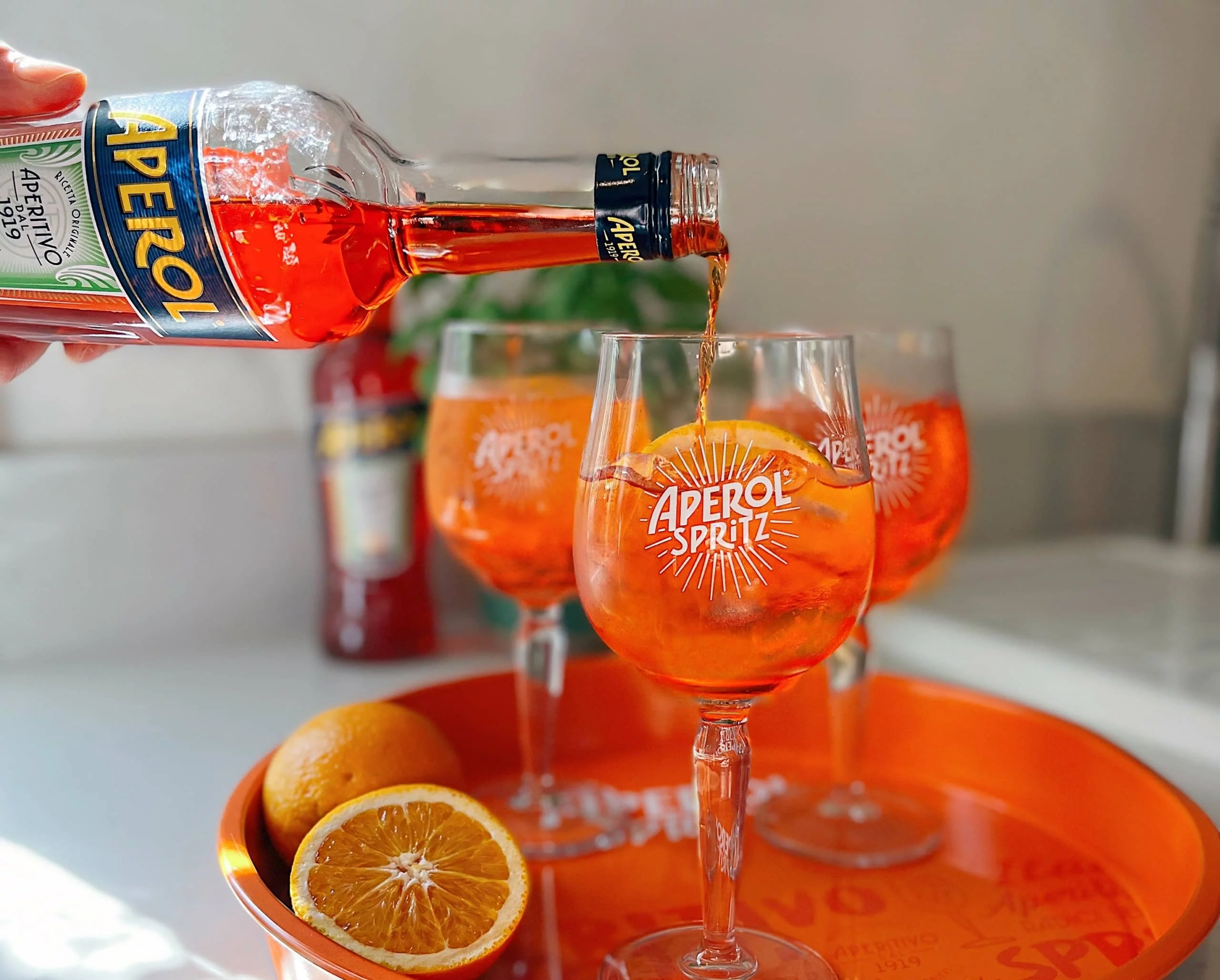 Aperitivo hour is calling – so why not make your favourite aperitif at home? With the right cocktail essentials, you could be sipping on Aperol Spritz with friends without leaving the house.
Whether you're hosting a dinner party, chilling in the garden or simply want a refreshing Spritz after a busy day, you should make sure your home bar is well-stocked with our essential cocktail ingredients.
From must-have tools and mixers to the perfect garnishes, we have the ultimate list of home bartender essentials to help you make the perfect Aperol Spritz at home. Read on to find out how to fill your drinks trolley…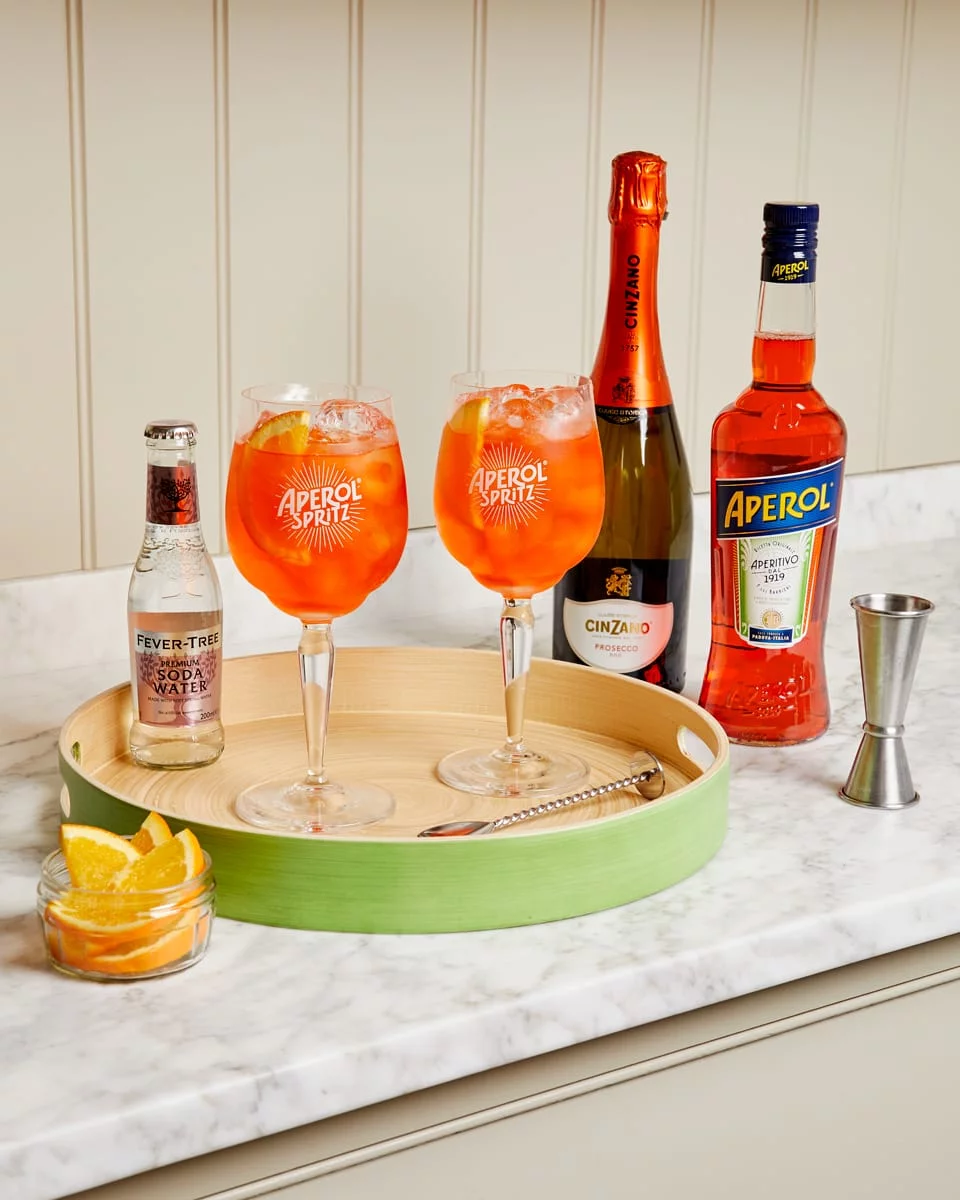 BAR TOOL ESSENTIALS FOR THE PERFECT APEROL SPRITZ
It's easy to make a delicious Aperol Spritz at home. You just need the right ingredients and tools to pour the perfect glass in only three minutes!
– Jigger – this metal measuring cup is the best way to get your measurements right. For an Aperol Spritz, you'll want three parts prosecco (75ml), two parts Aperol (50ml) and a dash of soda (25ml).
– Bar spoon – this long metal spoon with its spiral handle makes a great tool for stirring your cocktail.
– Ice bucket – want to make your ice last longer? Add an ice bucket and tongs to your home bartender set-up so your guests never have to wait. It's also a great way to keep your prosecco chilled.
–Large wine glasses – cocktails always taste their best when they are enjoyed out of the correct glass. For an Aperol Spritz, a large wine glass should be used – even better if it's served in our Aperol branded glasses.
Don't worry if you've not got the full bar setup. One of the best things about an Aperol Spritz is that you can make it with just the basics – a glass, some ice and the three key ingredients. Give it a quick stir with a spoon or stirrer and you'll be good to go!
HOW TO STOCK YOUR HOME BAR
With your bartending tools at the ready, all that's left to do is make sure you have the essential ingredients. Here are some of the main things you'll need for an Aperol Spritz: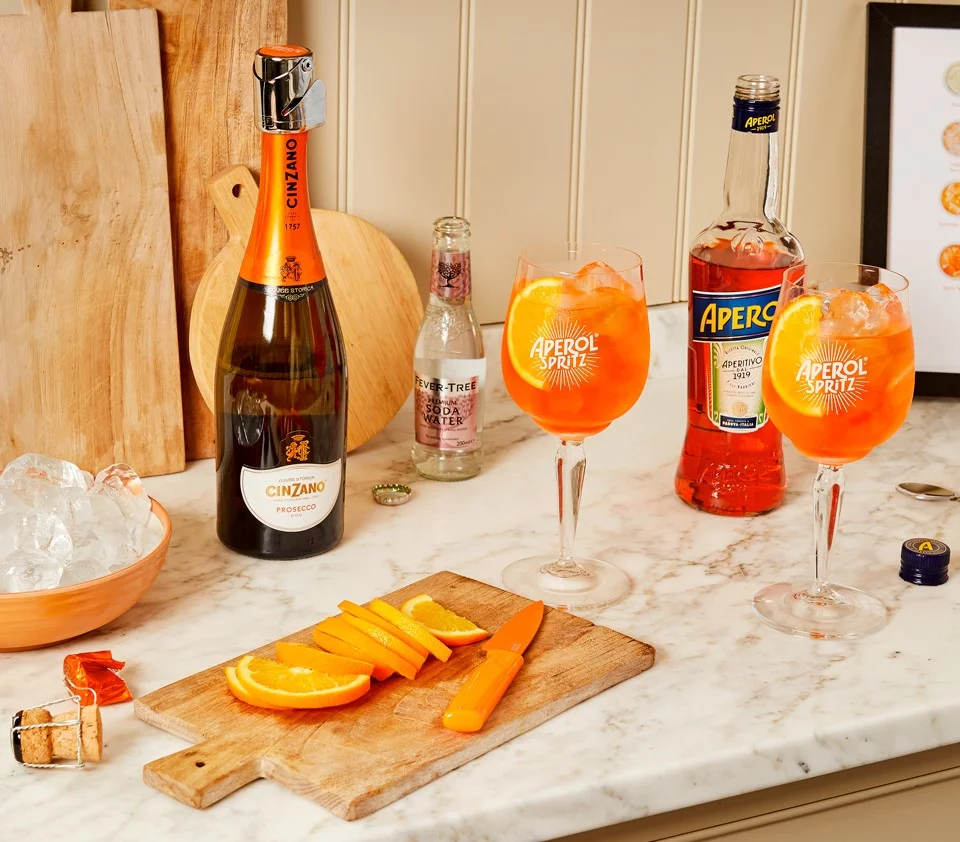 TOP UP YOUR BOTTLES
There are some essential cocktail ingredients you need to add to your drinks cabinet to ensure you achieve the winning combination.
– Prosecco – the perfect mixer for an Aperol Spritz. A freshly opened bottle will always achieve the best flavour and the right amount of bubbles.
– Aperol – of course, Aperol Spritz can't be made without Aperol! You can find our iconic orange bottle in most supermarkets or stock up on the Aperol Amazon store.
– Soda – a dash of soda water will add a little extra fizz to your Spritz.
ICE AT THE READY
Ice is an essential ingredient for many cocktails, but especially for Aperol Spritz. You should fill your large wine glass with plenty of ice before pouring your Aperol Spritz, to make sure it's chilled and refreshing.
GARNISHES
To match the vibrant hue and zesty flavour of Aperol, oranges are the only acceptable garnish here. Simply drop an orange wedge into the glass to infuse all of the flavours.
Ready to become a cocktail making maestro? Discover how to make the perfect Aperol Spritz at home today.