Get ready to celebrate our favourite day of the year – National Prosecco Day! This special event takes place every year on 13th August. And what better way to celebrate than with an Aperol Spritz?
Because, let's be honest, you can't make an Aperol Spritz without prosecco. It's the biggest part of our 3-2-1 recipe, balancing out our bittersweet flavour with bubbles and fizz.
Read on to find out more about our partner in crime, the Spritz to our Aperol. Plus, discover some delicious aperitivo recipes from our favourite foodie experts to complete your Prosecco Day celebrations:
– Saskia's Potato Bomboloni
– Hannah's Pistachio Ricotta
– SO VEGAN's Tomato & Olive Focaccia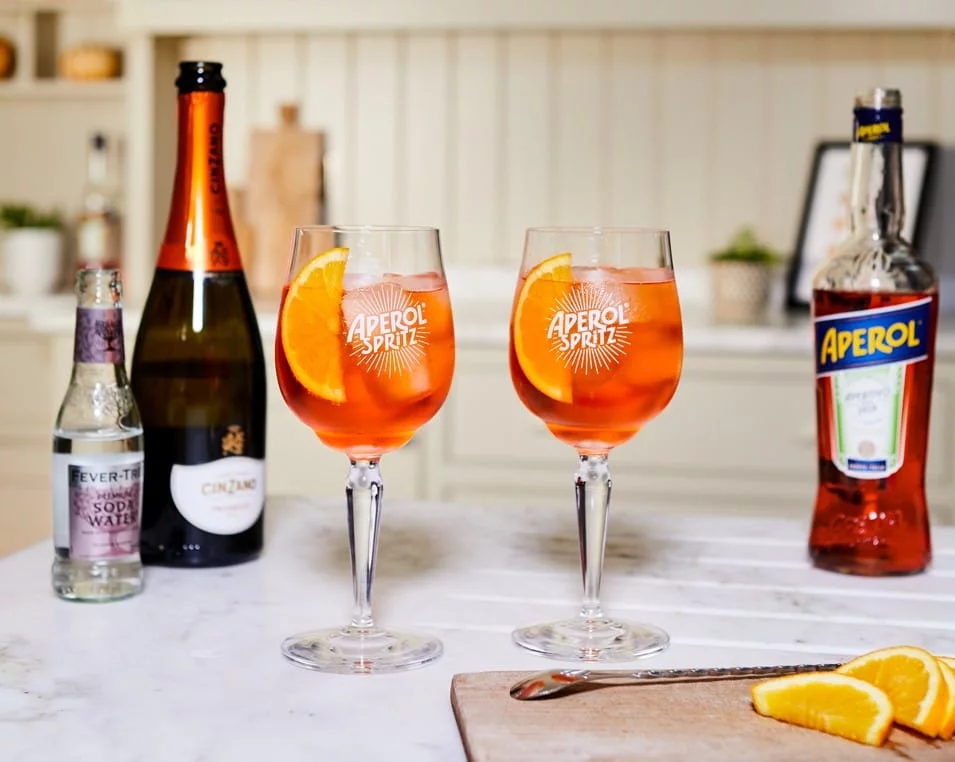 A SHORT HISTORY OF PROSECCO
It's thought the Romans were the first to drink prosecco long before National Prosecco Day was even established. Though the first documented mention of the wine was in 1754. So, what is prosecco and what makes it so special among sparkling wines? It has a whole day dedicated to it after all.
Similar to champagne, prosecco is a protected wine that can only be produced in a designated region of northern Italy: from Veneto – the home of Aperol – to Friuli, with two smaller designated areas within that region. This is often marked by the letters DOC or DOCG on your bottle.
It's traditionally made from the prosecco grape – also known as Glera – and has to include at least 85% of this special grape variety. The wine gets its fizz from the Charmat method, which involves a second fermentation in a pressure tank with yeast and sugar to create the signature fizz. Prosecco is usually aged for about six months and should be enjoyed within a couple of years of purchase.
There are three main types of prosecco:
– Spumante, or sparkling
– Frizzante, or semi-sparkling
– Tranquillo, a still variety that's rarely produced.
For the perfect Aperol Spritz you'll need a sparkling prosecco – our favourite is Cinzano – and that's what will be in our Aperol Spritz as we toast to National Prosecco Day. Cin cin!
HOW DO YOU DRINK PROSECCO?
Prosecco is a drink best served cold, but you already knew that. While you can drink prosecco on its own, we think it's best served with a few splashes of Aperol, a dash of soda and plenty of ice to make a sparkling Aperol Spritz.
HOW TO CELEBRATE NATIONAL PROSECCO DAY
Now that National Prosecco Day is marked in your diary, it's time to prepare for the celebrations. Head on into the garden and soak up the sunshine with some bubbles. Invite over your friends and serve Aperol Spritz with a selection of delicious Italian nibbles.
Not sure what to make? Our Spritz Squad have got the perfect aperitivo recipes for you to try…
SASKIA'S POTATO BOMBOLONI @SASKIA.SIDEY
Ingredients:
– 230ml water
– 115g salted butter
– 2 tablespoons of sugar
– Large pinch of salt
– 100g plain flour
– 70g instant mashed potato flakes
– 4 eggs
– Large handful of chives, finely chopped
– Oil, to fry
For the dip:
– 1 packet of ricotta
– 1 lemon (zest and juice)
– Handful of basil and thyme, finely chopped
– 2-3 teaspoons 'Nduja paste
Method:
1. Melt together the water and butter. When the mixture comes to a rolling boil, add the sugar, salt, flour and instant mash.
2. Stir vigorously until thick and no patches of flour remain and the mixture comes away from the sides of the pan easily.
3. Scrape into a bowl and allow to cool slightly.
4. Crack in one egg at a time, beating until totally combined before each addition. Stir through the chives and set aside until you're ready to fry.
5. Mix together all the ingredients for the dip.
6. Add a neutral oil to a deep frying pan and deep fry the bomboloni using two teaspoons to measure. Fry for 2-3 minutes until deeply golden.
7. Remove from oil and blot on kitchen paper. Sprinkle with salt.
8. Serve with basil sprigs and the 'Nduja ricotta dip.
HANNAH'S PISTACHIO RICOTTA @HANNAHMAIEATS
Ingredients:
– 1 fresh baguette
– 1/2 courgette
– 1 corn on the cob, cooked
– Small bunch of basil, finely chopped
– 1 lemon
– 250g ricotta
– 35g shelled pistachios
– Few tsp of extra virgin oil
Method:
1. Place the pistachios in a food processor, blitz until you have a fine crumb then add in the ricotta. Blitz for a few more seconds then pop it in the fridge until you're ready to use it.
2. Salsa time. Finely dice the courgette. Char the corn on an open flame hob, then cut off all that lovely corn.
3. Mix the courgette, corn, basil, salt, pepper, lemon juice and a glug of the oil. Set aside.
4. Slice the baguette into 1cm thick rounds and place in a hot pan with a little oil until nice and golden.
5. Time to build your crostinis. Get a good spoon of the pistachio ricotta and spread it on each crostini. Top with the salsa and enjoy!
SO VEGAN'S TOMATO & OLIVE FOCACCIA @SOVEGAN
Ingredients:
– 520g (18.3oz) plain flour
– 2 tsp salt
– 1 tsp sugar
– 2 tsp fast-action yeast
– 450ml (15.2 fl.oz) lukewarm water
– olive oil
– 100g (3.5oz) cherry tomatoes
– 1 handful of mixed pitted olives
Method:
1. Add the flour, salt, sugar and yeast to a large mixing bowl and stir to combine. Pour in the water and use a spatula to mix into a sticky dough. Be careful not to over mix otherwise the bread might be too chewy.
2. Drizzle 1 tablespoon of olive oil over the dough and use your hands to pull the dough away from the edges to let the oil drizzle underneath the dough. Cover with a tea towel. Leave to prove for 4 hours.
3. Pour 2 tablespoons of olive oil into a 30cm x 25cm (12" x 10") baking tray, pop the dough into the tray, spread it out, then cover with the tea towel and prove again for 45 minutes.
4. Preheat the oven to 200°C fan / 425°F.
5. Meanwhile, slice the tomatoes in half and add them to a mixing bowl along with a drizzle of olive oil.
6. Use your fingers to create lots of dimples in the dough, then place the olives and tomato halves into the dimples. Season with a generous sprinkle of salt and drizzle with more olive oil, then bake for 20-25 minutes or until golden on top.