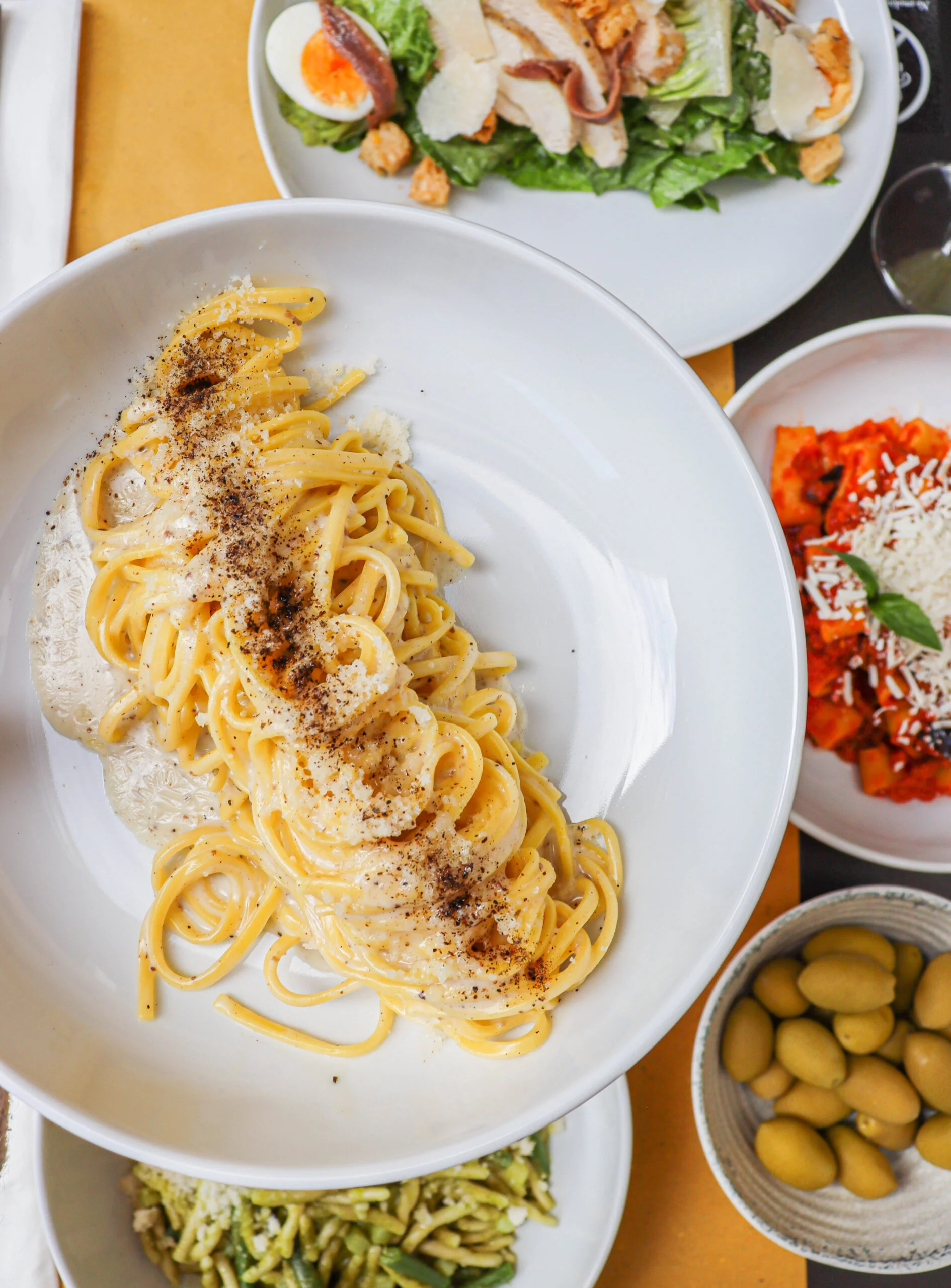 Available at Aperol Spritzeria Terrazza, Eataly's outdoor restaurant – August 2023
This traditional Italian dish takes its origin from the period of Transhumance. The dish was a shepherd's favourite as they would only take a few ingredients with them as they roamed pastures: cacio (cheese), dry pasta made with water, flour, and pepper. Another theory suggests that the dish was served in the first osteria. This dish is the perfect quick and fresh, Friday night pasta dish to share with friends.
Ingredients (serves 2):
200g spaghetti di Gragnano
2 tablespoons salt
2 tablespoons whole black peppercorns
140g Pecorino Romano PDO, freshly grated
Pick up the cheese and spaghetti at Eataly's market!
Bring a large pot of water and 2 tablespoons of salt to a boil
Grind the peppercorns very coarsely using a pestle and mortar
Gently toast the cracked black pepper in a pan on low heat. Once the pepper releases a fragrant scent, add a ladle of cooking water, and keep on a low flame
Warm up a big bowl for serving the pasta. Use some of the pasta water to heat the bowl if you like
Cook the spaghetti until al dente. Quickly lift it from the pot with tongs, let it drain for a second, then drop it into the warm bowl
Immediately scatter a cup of the grated cheese and most of the ground pepper on the pasta, and toss in quickly. As you mix, sprinkle over a spoonful of hot water from the cooking pot to moisten and amalgamate the pasta and condiments — add more pepper or cheese to taste
Once ready, serve right away, while the spaghetti is very hot.
Want to learn how to make this with fresh pasta? Join one of Eataly's cooking classes!