Summer is here, which means it's finally picnic season. Whether you're getting together with friends at your nearest beach or eating al fresco in your back garden, it's time to make the most of the sunshine while it lasts.
Of course, a Great British summer means there's no guarantee that the weather will be on your side. However, you can still bring your best picnic date ideas to life – at the park or in your living room!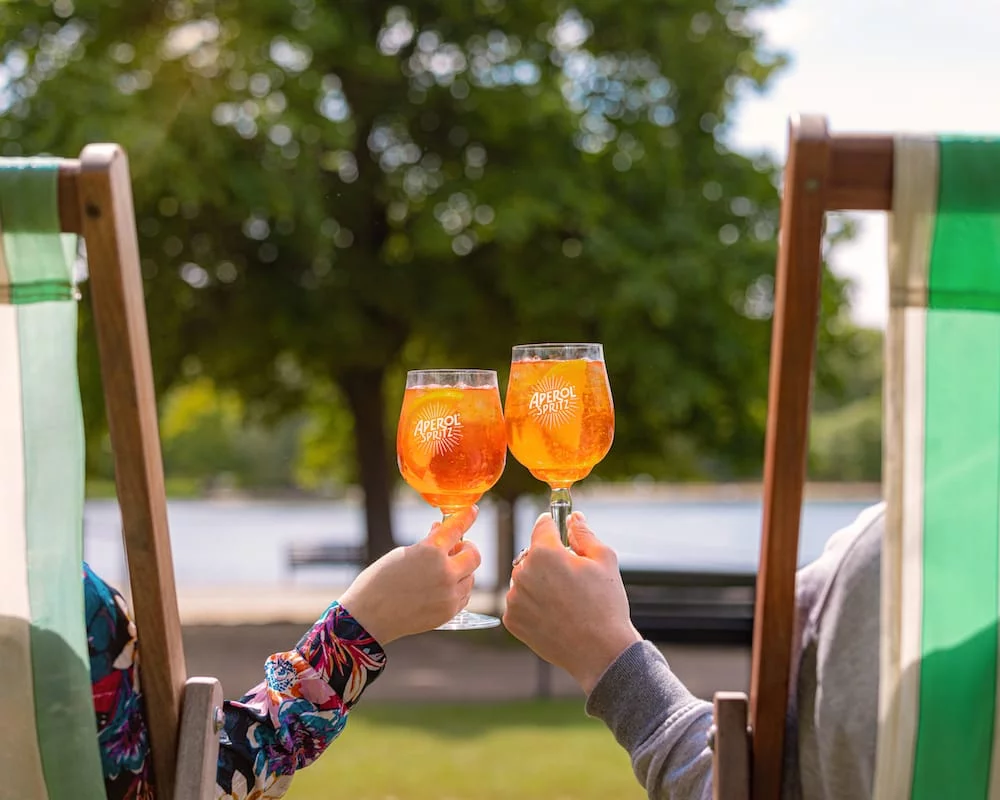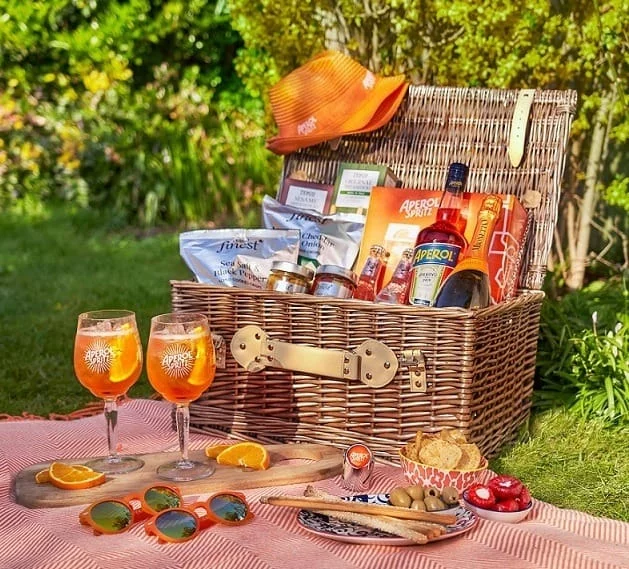 WHAT IS THE PERFECT PICNIC DRINK?
Planning the perfect picnic means you need to plan the perfect picnic drink. We think that an Aperol Spritz is just the picnic cocktail for your mates to sip on, or as the cherry on top of a perfect romantic picnic date idea.
Not only is an Aperol Spritz delicious in any kind of weather, but it's easy to make wherever your picnic takes place. All you need is a couple of ingredients, and you have something tasty and thirst-quenching to round off your day.
Share the Joy with Aperol
WHAT TO PACK FOR A PICNIC
Wherever you end up having it, no picnic is complete without the right picnic drinks, nibbles, and goodies: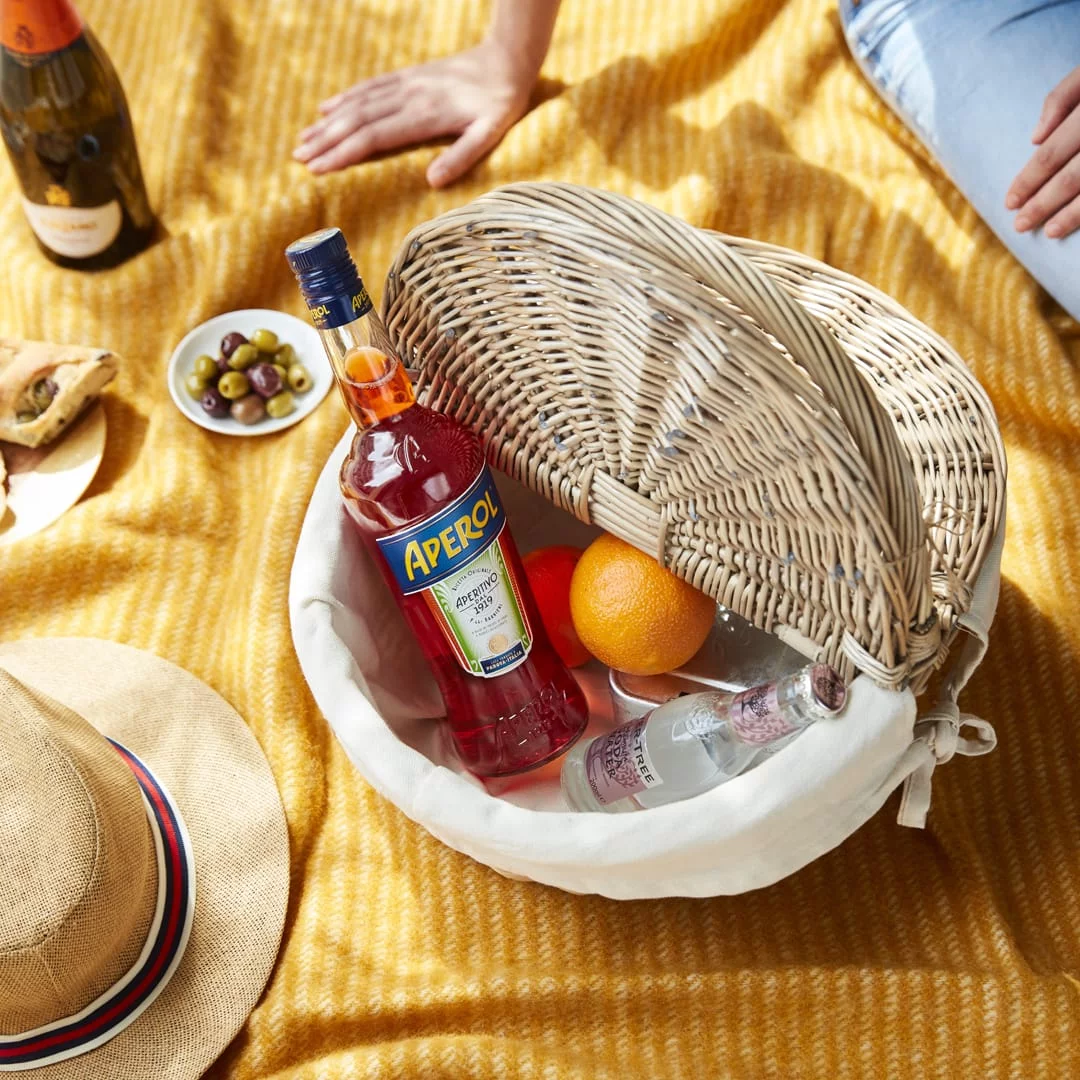 WHAT IS THE PERFECT PICNIC DRINK?
Picnic blanket
Keep those grass stains away and get comfy in the sunshine with your besties.
Picnic basket
Go traditional with a cute wicker basket or bring an insulated bag to keep your picnic cocktails ice cold.
Picnic drinks
You have to stay hydrated, so make sure you have plenty of water as well as some tasty tipples for your afternoon in the sun (Aperol Spritz anyone?).
Snacks and nibbles
Live la dolce vita with some olives, antipasti and a fresh green salad, or take a trip down memory lane with your favourite sandwiches and crisps from your childhood.
Portable speaker
The best picnic date ideas always include a sizzling Summer soundtrack, so charge your speaker up and create lasting connections with friends.
Picnic games
Whether you're the sporty type or a complete Scrabble geek, pack your bat and ball, your frisbee, or your deck of cards and get competitive!
OUR TOP 5 PICNIC DATE IDEAS
There are so many ways to make your picnic special, from picking a unique location to planning a themed meal. Here are five of our favourite picnic date ideas to brighten up your summer.
HAVE A ROOFTOP PICNIC
If you don't have a garden but you do have an accessible rooftop, this is the perfect place to catch some rays and host your picnic. All you need is sun cream, cosy cushions and blankets, and maybe even a bench or deck chairs. Decorate it however you like, throw on your favourite tunes, and transform your building into the hottest rooftop hangout in town.
WORK UP AN APPETITE WITH A HIKE
Take a romantic stroll or an energising hike with your mates before you settle down to enjoy your delicious picnic. If you live near cliffs, mountains or forests, this is a great activity to get your adrenaline pumping before you sit back and take in the views.
CREATE A PICNIC CINEMA
A great choice if you're having a picnic at your place, this is one picnic date idea that you can do inside or outside. For a sunset cinema, get a portable projector against a sheeted wall, and if it starts to rain then simply take the screening inside for a cosy evening around the TV.
GIVE YOUR MENU A THEME
If you're a foodie bunch of friends, why not give your picnic a theme and encourage everyone to bring a dish? Create an official picnic menu and pair your picnic drinks with each course. Homemade focaccia and Aperol Spritz to start, affogato and limoncello to finish. Buon appetito!
GET CRAFTY
For a creative picnic date idea, why not bring some paints, paper and whatever else you fancy along to the picnic so you can craft and snack at the same time. Take inspiration from the feast in front of you, your beautiful surroundings, or your fabulous group of friends.
ITALIAN-INSPIRED PICNIC FOOD IDEAS
Turn your back garden or local park into your own slice of Venice with some delicious Italian picnic food ideas that pair perfectly with an Aperol Spritz.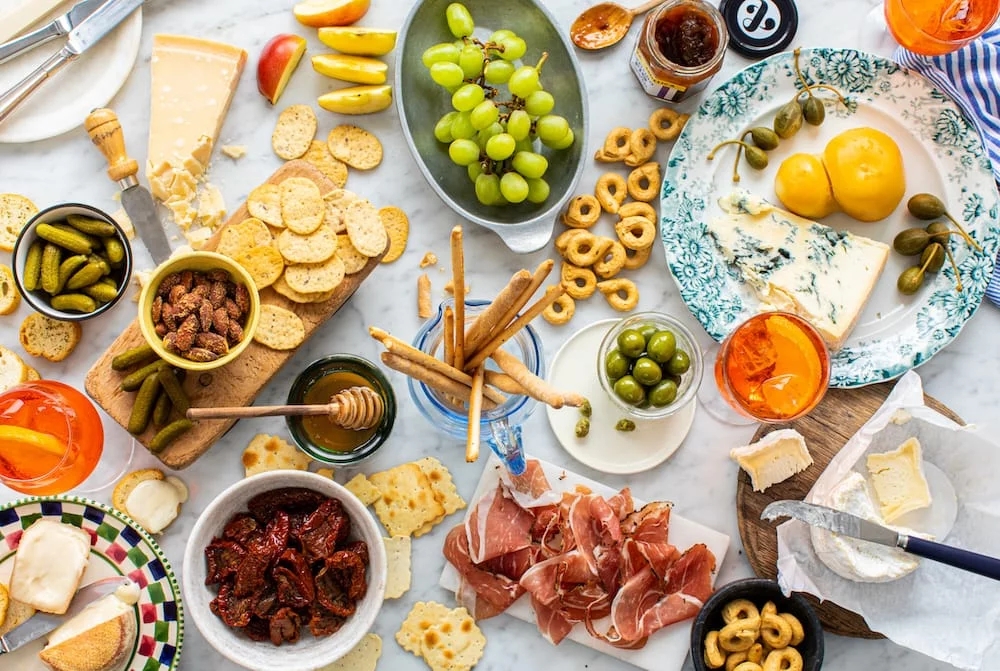 'Nduja sausage rolls – easy to make beforehand, this picnic staple has been given the Italian treatment with moreish 'nduja and fresh thyme. < Fig and prosciutto crostini – sweet, salty, and undeniably Italian, this is one picnic treat that you can all enjoy assembling yourself. Use Crosta & Mollica chilli crostini for an extra kick.
Tramezzini – give finger sandwiches an Italian twist with tramezzini, bursting with homemade olive oil mayonnaise and Mediterranean inspired flavours such as buffalo mozzarella, aubergine, basil and capers.