As late afternoon falls, stopping at a little neighbourhood bar for a little something to eat and drink as you catch up with friends, neighbours, and anyone else who may happen to be there is a quintessentially Italian ritual.
Traditional aperitivo can include anything from fried arancini rice balls, made with leftover risotto, to lighter bites like olives and nuts. The selection is decidedly savoury, and salt is the key to it all. Salty snacks are the perfect complement to the traditional drinks served alongside – the bitter notes open the palate ('aperitivo' comes from a Latin word meaning 'to open,' after all).
The drink, of course, is Aperol Spritz, and the company is lively and welcoming as you all raise a glass to the day's small triumphs.
As it's harder to go out at the minute, here's our simple guide to recreating the aperitivo moment with your household, with tasty, authentic aperitivo bites you can find find from your local supermarket (no airfare required!).
Let our recommendations inspire your next spread – mix and match to suit your tastes (and your guests'!) and come up with your favourite combinations.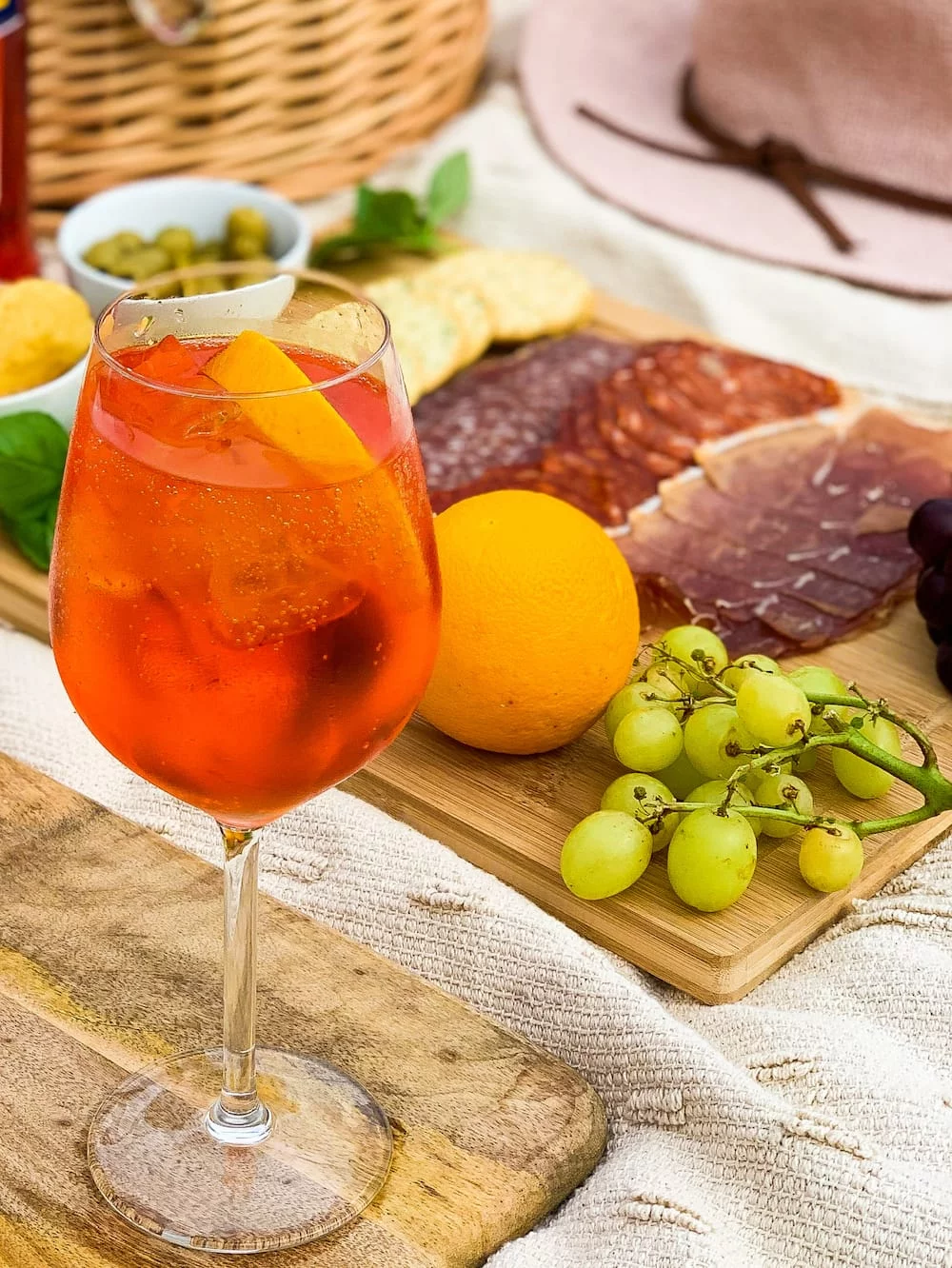 1. Salumi
Italians have been making an art of cured meat for centuries. There are dozens of regional variations – some are dry-cured, while others are partially cooked; some are more suited to use in cooking (like adding depth to spaghetti carbonara), while others are enjoyed simply by the slice. For some spice, try 'nduja, a spreadable variation from Calabrese, or go classic with a delicate serving Prosciutto di Parma. Salami is also a popular choice – there are countless variations, all delicious alongside aperitivo. Many of these are widely available – see what you can find near you and try something new!
2. Cheese
What would aperitivo be without cheese? Italy produces thousands of types of cheese, many of which have special protected designations of origin, meaning they can only be produced in a certain region. From the soft, like mozzarella di bufala, to hard, like Parmigiano-Reggiano or Pecorino, the possibilities are endless. When putting together the cheese for your aperitivo plate, it's often nice to offer a few choices with different textures and intensities of flavour. Try a sweeter burrata, a mozzarella filled with a soft mixture of mozzarella and cream, alongside a sharper aged Asiago or a nutty Fontina. Play around with the combinations and see which ones you like best – or just stick to your favourites.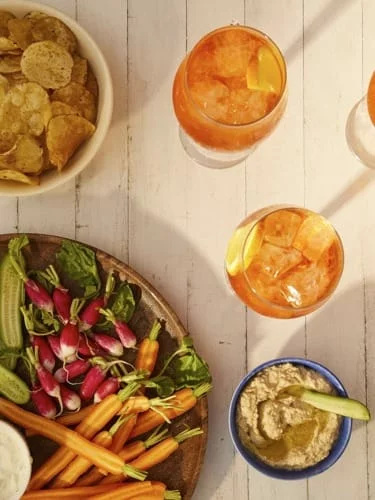 3. Verdure
Vegans rejoice – there's aperitivo for everyone! Italy's Mediterranean climate makes it easy to grow all kinds of delicious vegetables. From the famous tomatoes to regionally-renowned artichokes, it's easier than ever to bring the flavours of the Mediterranean to your table. Add a salty accent with snack-sized capers, the pickled fruit of the caper bush, or get a taste of the height of summer with some sun-dried San Marzano tomatoes. Artichokes are another great option – skip steaming them at home and pick up a few that have already been prepared, usually easy to find in your grocer's chilled section.
4. Olives
Revered since the days of the Roman Empire, olives remain one of Mediterranean's most popular snacks. Perfect with Aperol Spritz, these cured delights complement perfectly its bittersweet taste. A number of varieties are native to Italy and all are likely to be found gracing the tables of little bars along the Venetian canals. Some of our favourites are the Nocellara, bright green olives from Sicily with a light flavour, and Gaeta, smaller black olives from a region south of Rome which offer a more tangy taste. The best part? Many of them should be easy to find near you!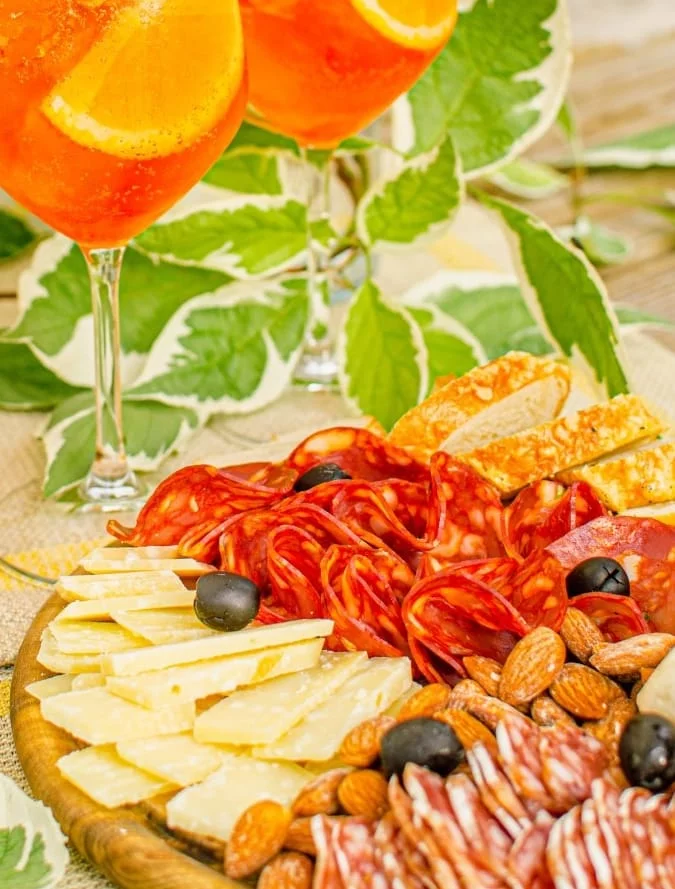 5. Nuts
Mixed nuts accompany drinks in bars all over the world – give the classic mix an upgrade with an Italian flair. A number of nuts are cultivated in Italy – from the pistachios grown in Sicily that get their rich flavour from growing in the region's volcanic soil to the Piedmontese hazelnuts that develop their intensity of flavour during their time ripening on the tree. Let the flavours of Italy inspire you as you see what your local shop has to offer.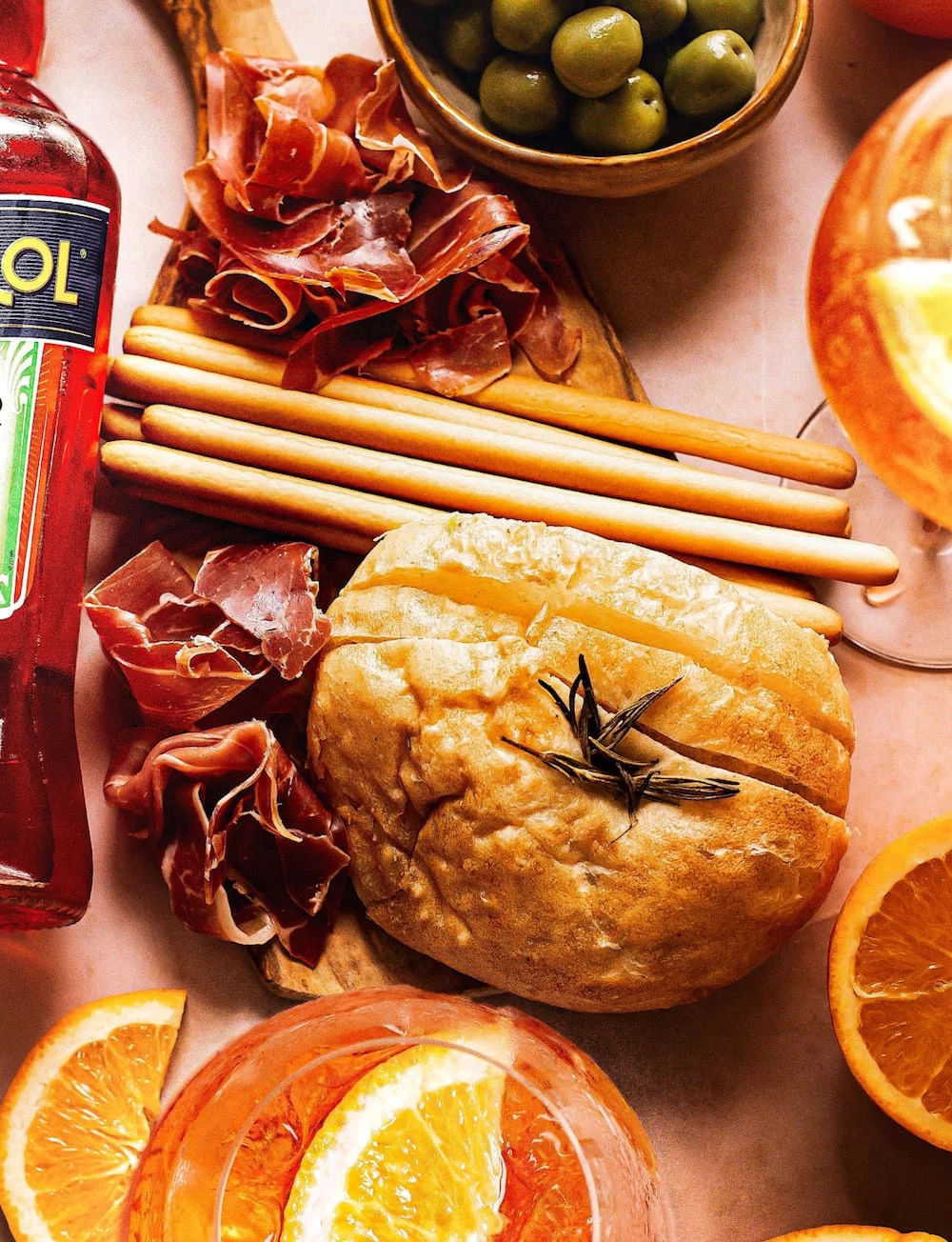 6. Bread
There's nothing we like better than bread! So it's just perfect that a small selection of breads is the perfect addition to any aperitivo board. We'd recommend a classic focaccia – or if you'd prefer some crunch, breadsticks or savoury biscuits are great too.
So now you know all the key ingredients you need to create the perfect aperitivo board to accompany your Aperol Spritz, why not give it a go? Head down to the supermarket and choose your favourite selection of cured meats, cheese, verdure, olives and nuts.
We recommend working with two or three of the categories – that way, you'll have a good mix of textures and flavours as well as something to suit each of your guests' tastes. If you're going with salumi and cheese, try building your spread around a central board, or use bowls of different sizes to create an unconventional array of Italian verdure and classic bar snacks.
Make sure there are enough plates for your guests, plenty of bread to go with the salumi and cheese, and, of course, Aperol Spritz for everyone. Once you've laid the table and raised a glass, don't forget to share a snap with us on social media! Cin cin!