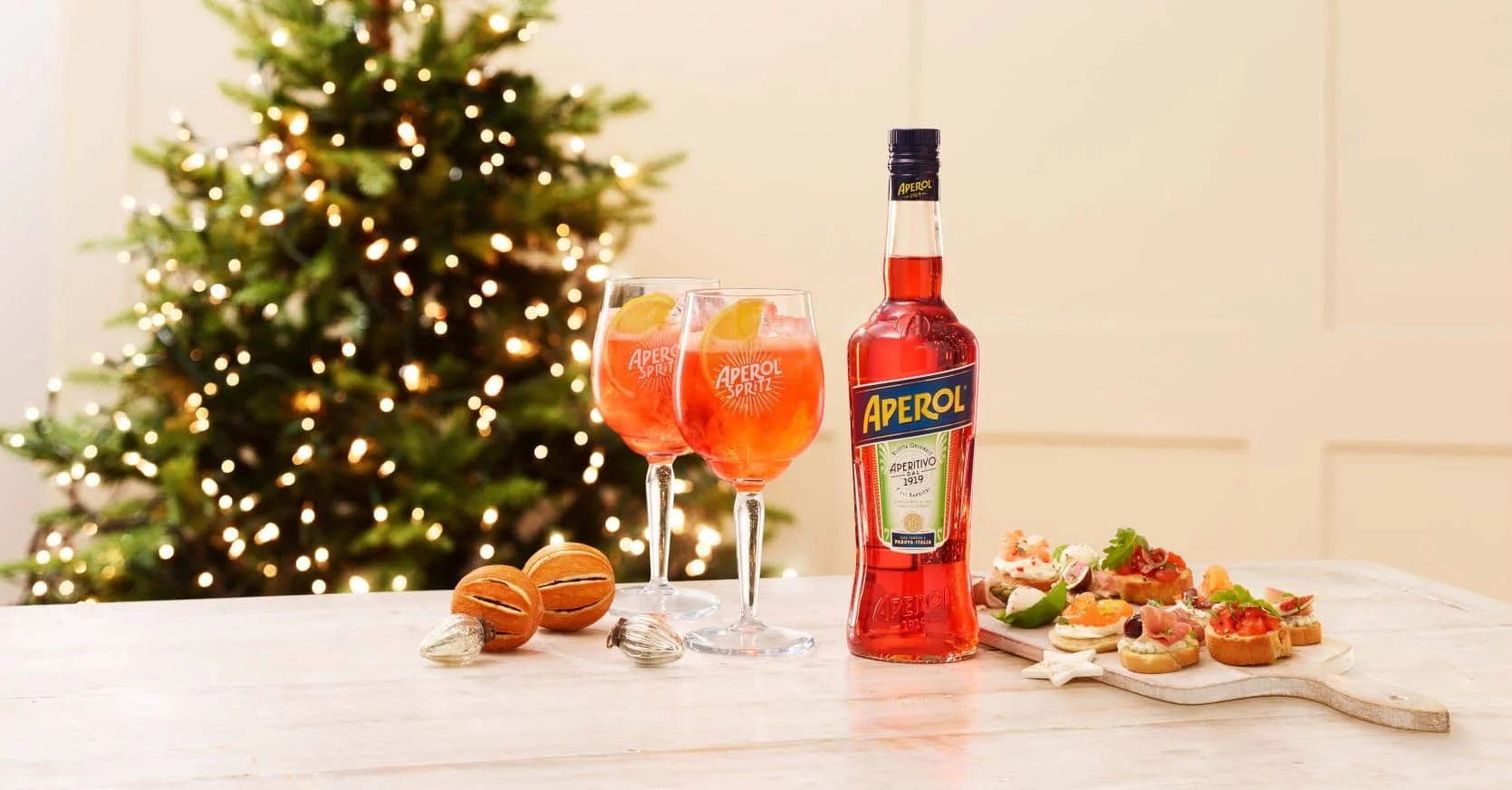 PLAN YOUR WINTER DINNER PARTY WITH APEROL
Buon Natale Aperol lovers! It's time to take your Christmas catch-ups and New Year's Eve gatherings to the next level.
Think tables lined with seasonal decor, platters of Italian cichetti with a Yuletide twist, and several glasses of Aperol Spritz to complete the evening. It's the perfect way to celebrate with a smaller get together, while still impressing your friends.
This month, our Spritz Squad have been busy hosting their own festive Aperitivo hours at home. We asked them to share their favourite Xmas-inspired dishes and dinner party essentials to help inspire your winter dinner parties.
Ready to start planning? Check out some of their gorgeous snaps, settings and recipes below…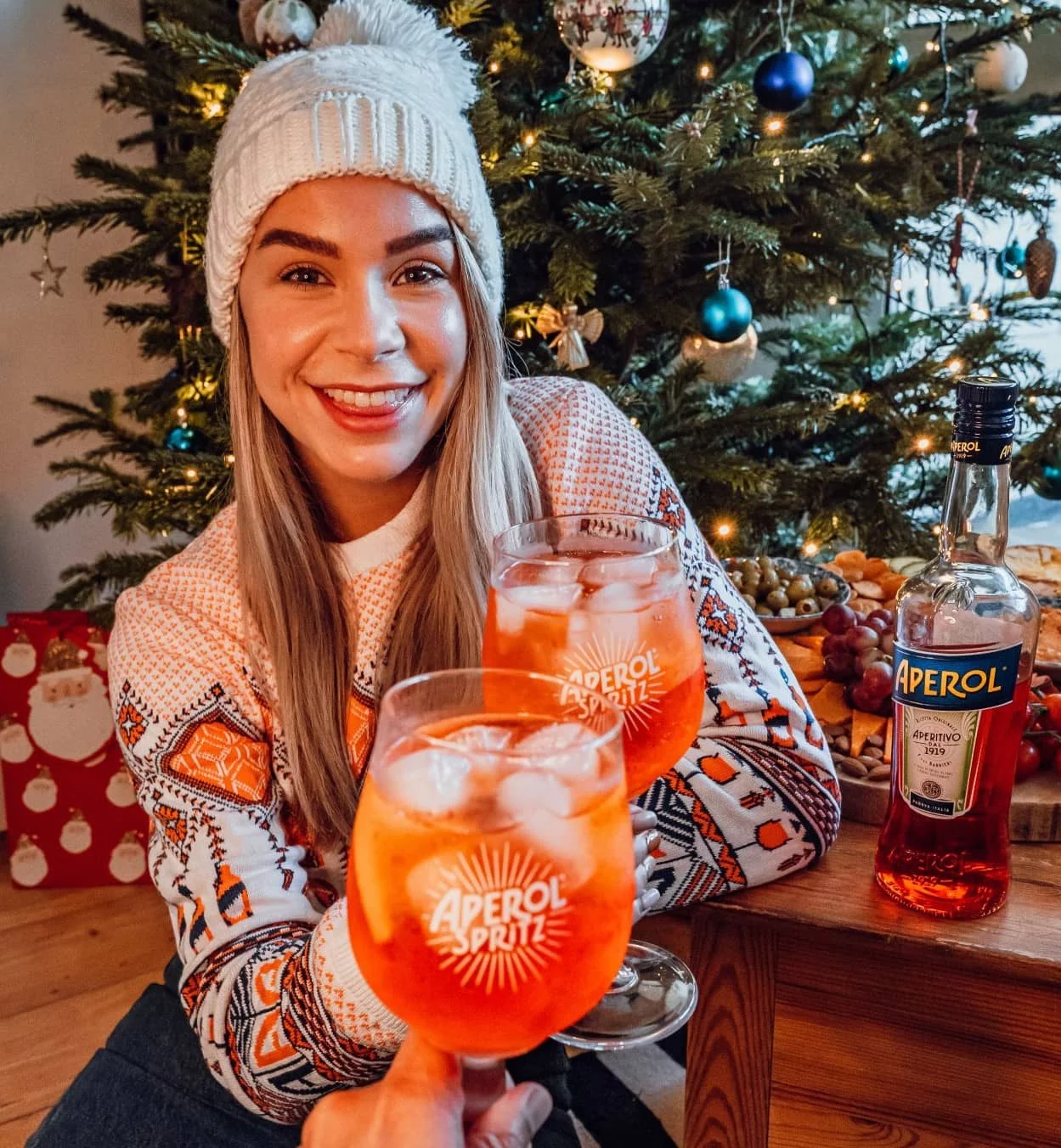 CHEERS TO SPRITZMAS
Who said Aperol Spritz was just for the summer? Well, it wasn't us and it definitely wasn't @sandymakessense.
Our unique orange flavour and sparkling bubbles make Aperol Spritz the ideal festive cocktail, especially when paired with Christmassy nibbles like Sandy's veggie cheeseboard.
She's even rocking the Aperol Merry Spritzmas Jumper to celebrate the winter season in style!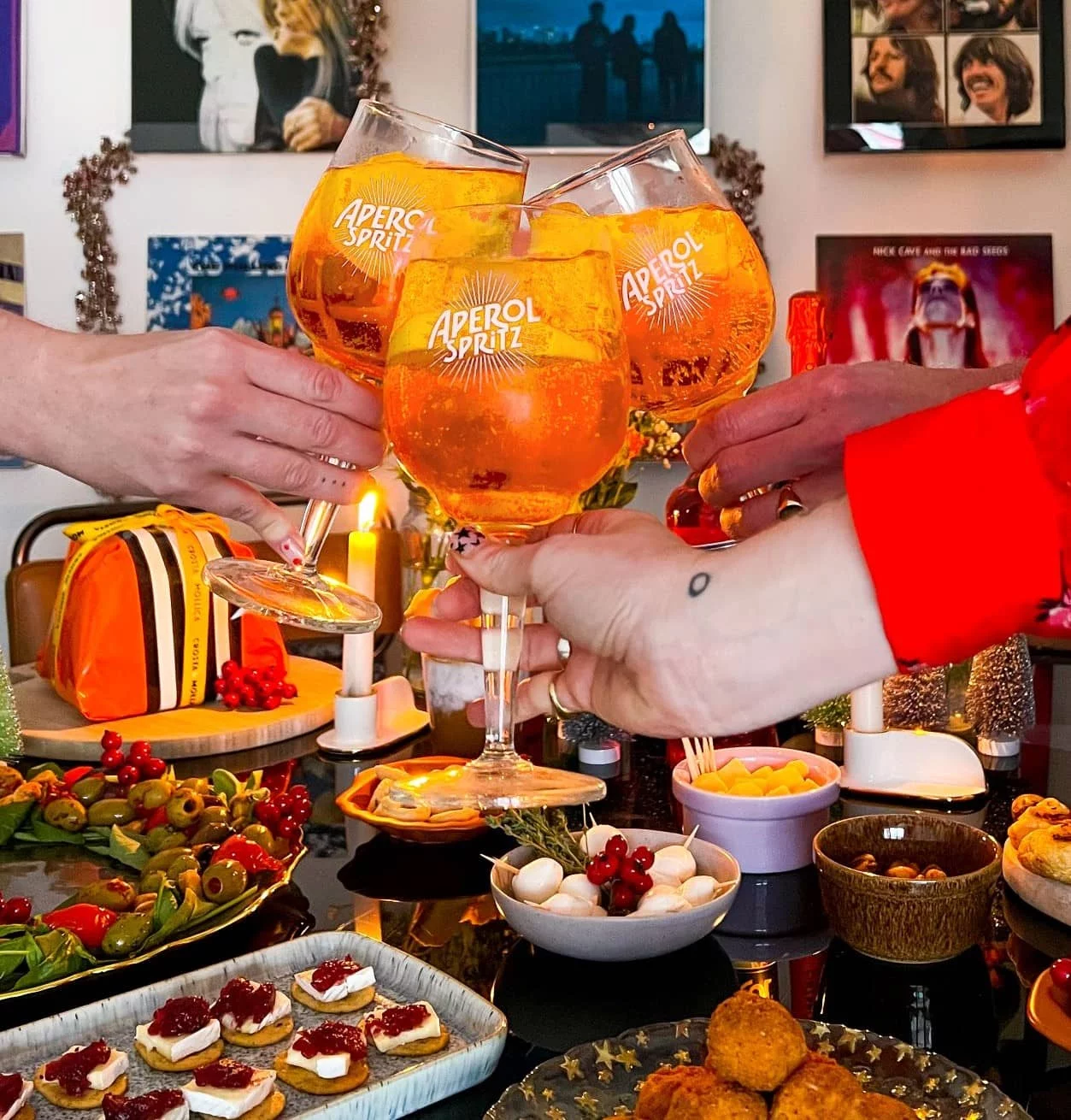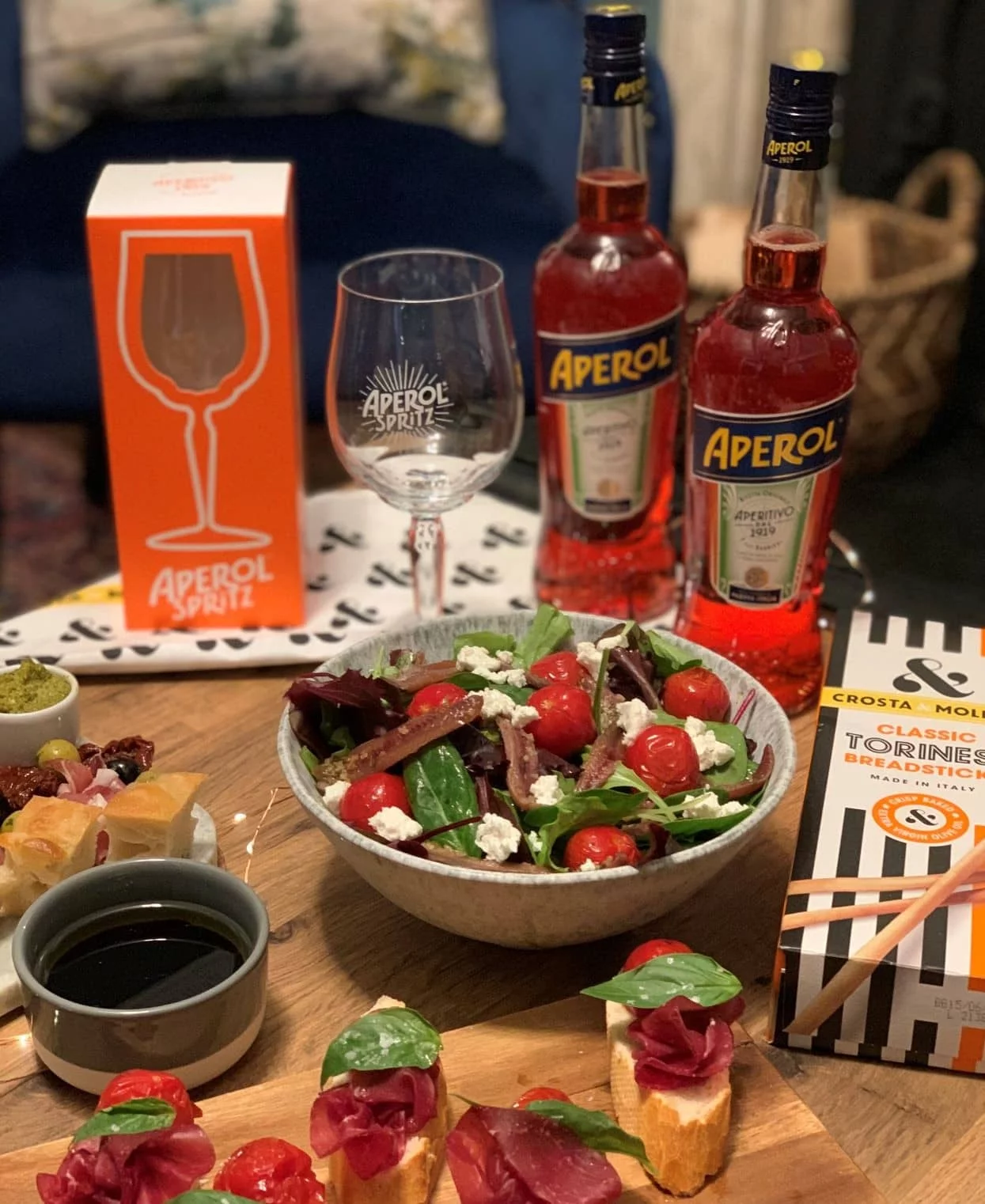 A VERY ITALIAN CHRISTMAS
As a professional chef, @kitchenwithcumbers knows how to create a mouth-watering menu – and his festive Aperitivo is no exception.
The classic dishes incorporate fresh ingredients and authentic Italian flavours, including:
– Focaccia
– Prosciutto-wrapped breadsticks
– Anchovy and tomato salad
– Creamy burrata
Complete your table setting with our official Aperol glasses and say salute to the festive season!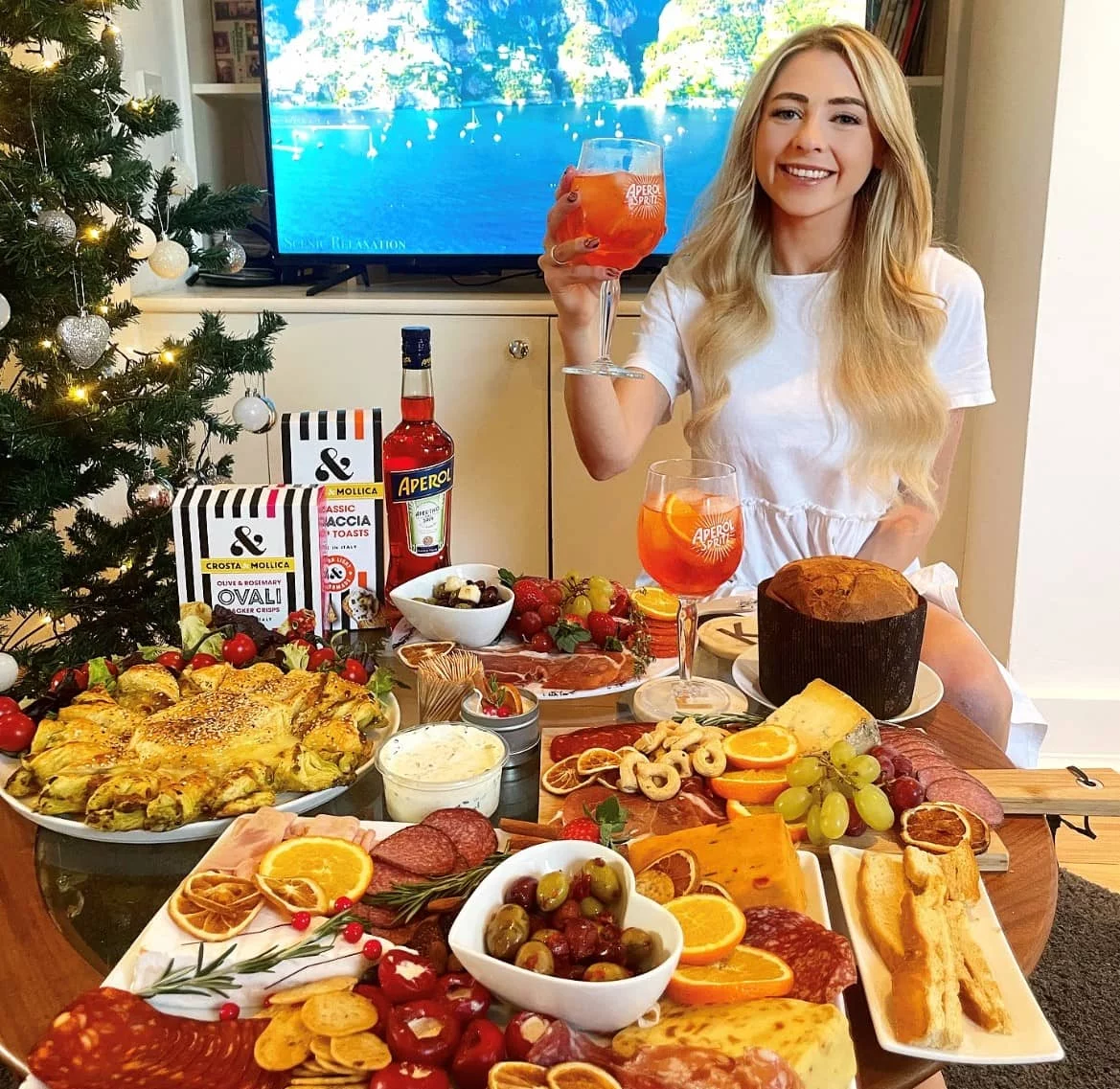 FESTIVE GIRLS' NIGHT IN
Girls' night with @kate.ovens is all about friends, food and Aperol Spritz!
Load up the table with Aperitivo goodies like olives, gorgonzola, grapes and prosciutto, plus a few Crosta & Mollica snacks. Add some fresh and dried orange slices to tie in the festive orange flavour of Aperol Spritz.
The real foodie showstopper is her baked Christmas wreath platter, made from pesto and pastry with a camembert centrepiece.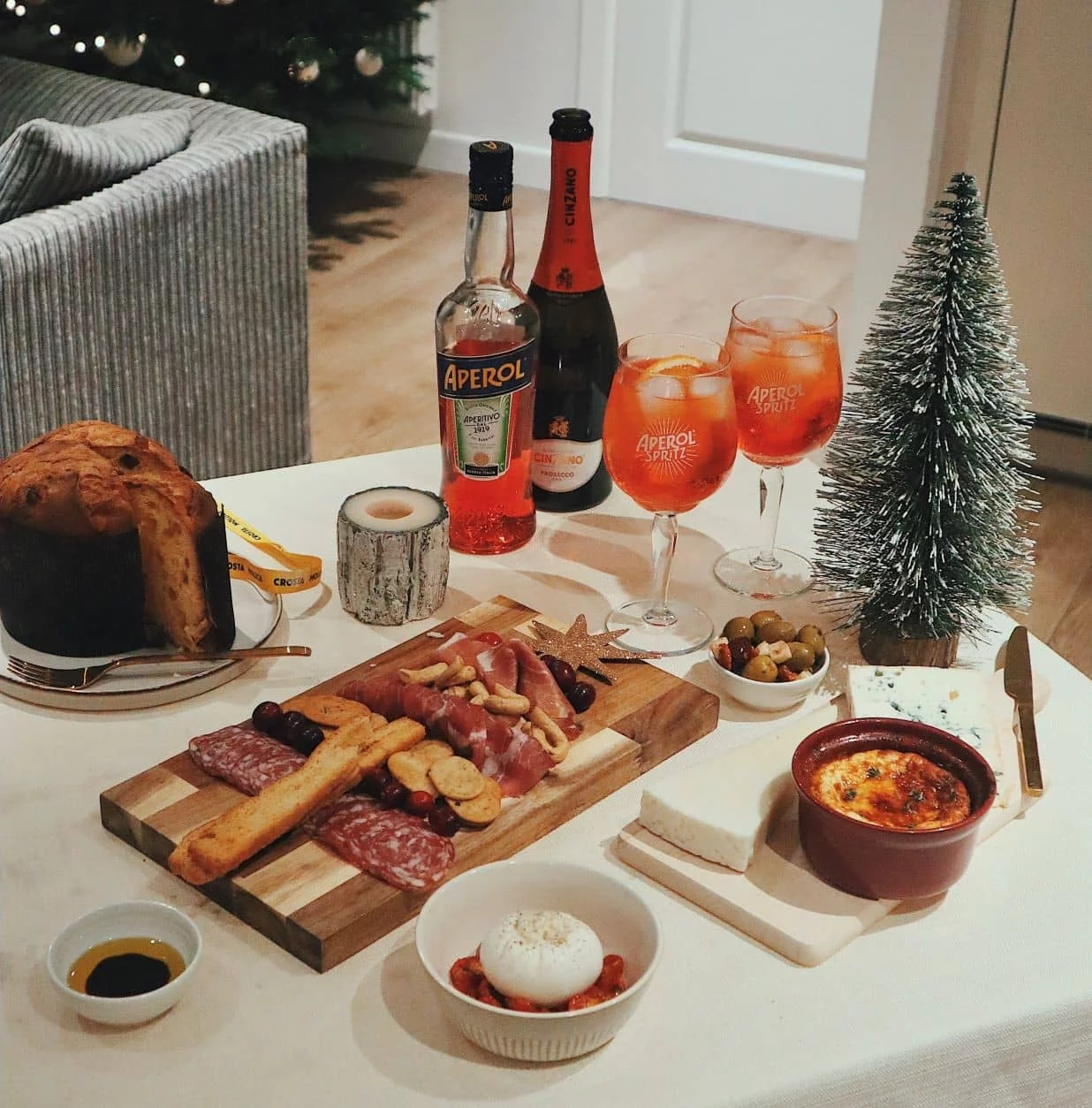 O CHRISTMAS TREE, O CHRISTMAS TREE
Looking for a dinner party showstopper? @birkbites has you covered with her loaded Christmas tree-shaped charcuterie board.
Served with Crosta & Mollica snacks, baked cheese topped with cranberries and a few glasses of Aperol Spritz, it's the perfect centrepiece for your festive Aperitivo hour.
Happy snacking!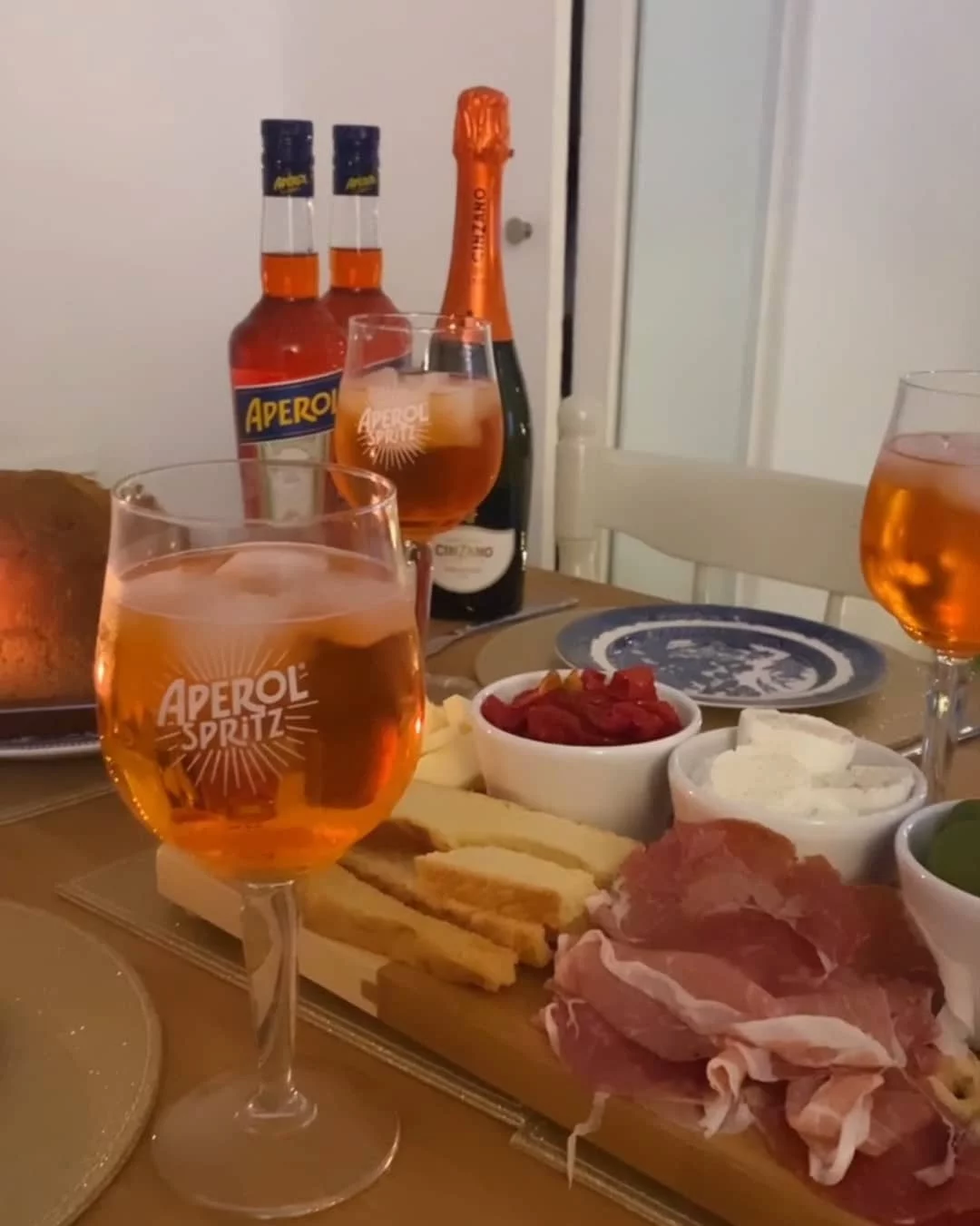 'TIS THE SEASON FOR APERITIVO
@joelwood started the festive season by hosting an at-home Aperitivo hour in true Italian fashion. With the Aperol Spritz flowing and a charcuterie board taking centre stage on the table, it was the perfect setting for a catch up.
Follow in Joel's footsteps and head to a local Italian grocery store to find some authentic ingredients for your Aperitivo spread. Not only will your dishes taste amazing, but it will also show your support for small Italian businesses.